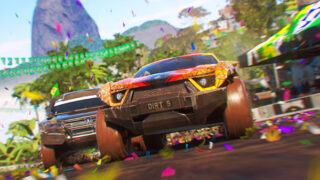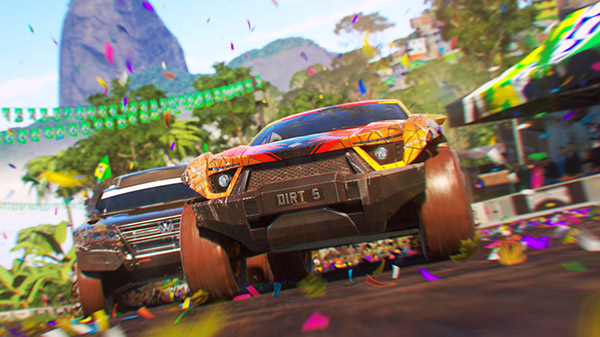 Codemasters has released a new trailer for DIRT 5 introducing the game's key features.
The company also confirmed that, like the Xbox One version's free upgrade to the Xbox Series X version via Smart Delivery, the PlayStation 4 version of DIRT 5 will also include a free upgrade to the PlayStation 5 version, no matter whether purchased physically or digitally.
"The trailer gives players an insight into the world of DIRT 5 and the breadth of content and features that await them," said DIRT 5 development director Robert Karp in a press release. "But we still have a few things under wraps including a feature never seen before in the DIRT series. If racing fans want some of the roughest terrain, extreme weather and thrills at every corner, then DIRT 5 delivers all of this and more."
Here are all the latest details, via Codemasters:
Showcasing the variety of global settings, the racing starts in Brazil under the gaze of Christ the Redeemer. The cars hurtle across mud and lush vegetation before a transition to the scorching Arizona desert where we head deep in the heart of the canyon to an oval sand track perfect for some heart-pounding sprint car racing. The action then heads to a series of rugged wadi gorges in Morocco, with a rock bouncer taking on a mountainous landscape in a challenging Path Finder event.

DIRT 5 offers the most diverse vehicles of any DIRT game; from the outrageous 900bhp sprint cars, to rock bouncers, pre runners all the way through to traditional and modern rally vehicles. There are 13 classes in total so players will always find something to suit their driving style. Mastering front, rear and 4WD cars will prove invaluable whether tackling Career mode or jumping into a split-screen race with friends.

DIRT 5 features more game modes than any previous iteration, with unique challenges at every turn:

Landrush – Circuit-based, rough terrain with jolting jumps and technically challenging sections. Weather and track conditions change on-the-fly during the event to mix-up this pack race mode.
Rally Raid – Controlling machines built for extreme off-road, Rally Raid challenges are point to point with split routes, where drivers can grab some serious air.
Ice Breaker – As the name suggests, players battle short circuits that take place entirely on ice. Throttle control and precise drifting are crucial to master this mode.
Stampede – Hard, unforgiving natural landscape, built for rough-and-ready machines. The layout is unmarked with major undulations over mud and sand.
Path Finder – Another new game mode. Controlled speed and more strategy are the keys to success. Hardcore off-road terrain packed with steep jumps and rock-strewn paths.
Sprint – Amplified racing at its craziest. 900bhp, enormous wings and four different sized wheels. Left turns only on oval and circular tracks. One for the drifters.
Ultra Cross – Varied terrain and unpredictable circuit design. Classic rallycross amplified for the ultimate challenge.

The crazy world of Gymkhana makes its welcome return for the first time since DiRT Showdown. Players jump, drift, and donut around purpose-built stunt arenas marked out with barrels, tires, and cones. String together tricks to trigger multipliers to hit a target score within the time limit. Gymkhana is as much about style as it is about substance.
And here is an overview of the game, via its Steam page:
About

DIRT 5 is the boldest off-road racing experience created by Codemasters. Blaze a trail on routes across the world, covering gravel, ice, snow and sand, with a roster of cars ranging from rally icons to trucks, to GT heroes. With a star-studded Career, four-player split-screen, innovative online modes, livery editor and more new features, DIRT 5 is the next generation of extreme racing.

Key Features

Let Loose – Whilst respecting the heritage and retaining the DNA of the franchise, DIRT 5 writes a new chapter in the legacy of DIRT—bolder and braver than ever before. New features, new innovations and a fresh approach make DIRT 5 a hub of off-road racing, style and culture, where you can constantly create highlight-reel moments.
Blaze a Trail Across the Globe – Take a trip around the world to and race on over 70+ unique routes across 10 different global locations in stunning, dynamic environments. From racing on the frozen East River in New York, to under the Christ the Redeemer in Brazil, to shining by the Northern Lights at Norway, take on opponents, the terrain and extreme, everchanging conditions.
Push The Limits with Incredible Cars – Get behind the wheel of an eclectic and exciting roster of cars. Conquer the toughest of terrain with boulder-beating machines, take iconic rally cars to new locations, or feel the power of 900bhp sprint cars. Rallycross, GT, trophy trucks, buggies muscle cars complete the ultimate off-road garage.
Own the Spotlight in a Star-Studded Career – World-renowned voice talents Troy Baker and Nolan North head up the cast of DIRT 5's story-driven Career mode. Under the tutelage of an icon, all eyes are on you to become the new star of an amplified world of off-road racing. Earn sponsorships and unique rewards, conquer all locations, and take on a fierce rival in our biggest ever Career.
Compete or Co-Operate in Off-Road Action – Local split-screen up to four players on offline modes, including Career, makes DIRT 5 the perfect couch multiplayer racing game as you battle for position with your friends. Online, throw down in curated race playlists for up to 12 players and compete in innovative objective-based modes.
Create and Capture with New Features – Capture your biggest jumps and best moves with a detailed Photo Mode, and show your creative flair with DIRT's deepest-ever livery editor for all cars. Plus, more brand new features that allow all players to create and play in DIRT like never before.
DIRT 5 is due out for PlayStation 4, Xbox One, and PC via Steam on October 9, and later in 2020 for PlayStation 5 and Xbox Series X. A Stadia version will follow in early 2021.
Watch the trailer below.