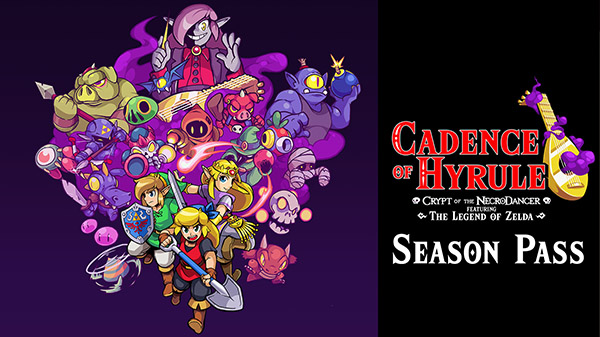 Brace Yourself Games has announced a Season Pass and physical edition for Cadence of Hyrule: Crypt of the NecroDancer featuring The Legend of Zelda, which is currently available for Switch via the Nintendo eShop. The physical edition will include all of the Season Pass content and launch on October 23 worldwide.
Here is an overview of the Season Pass, via Nintendo.com:
Get access to three downloadable content packs as they release with the Cadence of Hyrule Season Pass! First, fight to the rhythm with five additional characters like Impa and Frederick, the shopkeeper, with the "Character Pack" downloadable content. This pack also includes two returning modes: All Character Mode and Mystery Mode.

Re-orchestrate your adventure through Hyrule with new remixes

Listen to even more remixed versions of classic The Legend of Zelda series tunes as you move to the beat with the "Melody Pack" downloadable content. A total of 39 additional tunes from different artists are included!

Tune in to a chorus of chaos with a new story

Play through a new story and map where Skull Kid takes center stage in the "Symphony of the Mask" downloadable content. This tale of the mischief maker includes a new map and songs.

Play as Impa, Shadow Link and Shadow Zelda from The Legend of Zelda series in addition to Frederick (the shopkeeper) and Aria (Cadence's grandmother) from Crypt of the NecroDancer. Each character has their own set of skills—Impa can teleport behind enemies and Frederick comes back to life as a ghost!

Take on All Character Mode's 21-floor dungeon and defeat Ganon with each character. Or, challenge yourself in Mystery Mode where all items and enemies are displayed with question marks. Both modes are included in the "Character Pack."

With the "Melody Pack" you can designate which character and area will feature certain songs from both the original soundtrack and new remixes. Play through this rhythmic adventure to the beat of your own drum!

As a bonus for purchasing the Season Pass, you will be able to play as red and blue variations of Link and Zelda. You'll be able to access these symphonic styles right away.
Watch a new trailer below. View a new set of screenshots at the gallery.