Windjammers 2 PC demo available from June 16 to 22
Featuring local versus play and online multiplayer.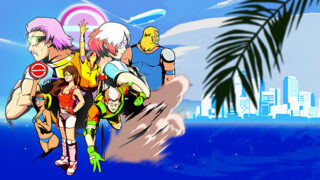 A demo for Windjammers 2 featuring local versus play and online multiplayer will be available for PC via Steam from June 16 to 22 as part of the Steam Game Festival: Summer Edition, publisher and developer Dotemu announced.
Here is an overview of the game, via its Steam page:
About

25 years later, throwing flying discs at your opponents is still as cool as back in the days. Sequel to the NeoGeo cult classic Windjammers, Windjammers 2 is the perfect mix between what you loved about the classic title and brand-new mechanics.

Fast-paced, strategic, easy to learn but hard to master: Windjammers 2 follows the steps of the first episode and brings back what makes the Windjammers series an amazing fun and competitive game!

Windjammers 2 Will Make Your Head Spin

New challengers, new stages, brand-new mechanics and awesome new power moves will make your head spin and enhance your windjammin' experience. Master the slapshot, dropshot, the jump, the smash and the powerful EX MOVE, and enjoy the kickass soundtrack coming straight out of the '90s.

With Brand New Characters…

Sophie De Lys – "Soyez prêts !" It's time to meet the French fashionable fast and furious Sophie De Lys and her super moves. One simple advice: choose the right way to go.
Max Hurricane – With his impressive silhouette, the Canadian champion isn't here to joke around. He's ready to blow anything out of his way with only one throw. Klaus Wessel, you've been warned.
Jao Raposa – Absolute fan of Steve Miller, Jao spent his childhood in Brazil watching the original Windjammers' own his opponents on the jammin' court, and it's now his time to shine. His best weapons? His speed and head-spinning throws.
And more to come!

And Returning Characters…

Hiromi Mita – 10 years later, you would have thought Japan gave up on the jam? Hiromi Mita is still around with her fast and tricky curve shots shots that will make you regret facing her.
Klaus Wessel – After a decade of hard training, Klaus Wessel, also known as the Colossus from Germany due to his powerful shots, is back and ready to show Max Hurricane who's the strongest jammer alive.
Loris Biaggi – Swift, strong, versatile… the Italian Loris Biaggi is still the great champion he was back in the days. .
And more to come!

Key Features

The return of the cult classic Windjammers.
Kickass hand-drawn 2D animations.
Brand-new characters and stages.
Slapshot, dropshot, EX move, jump and smash… a ton of new gameplay mechanics for a complete new windjamming experience.
Rad tracks to headbang like a dude.
Local and online multiplayer.
Watch a trailer for the demo below.