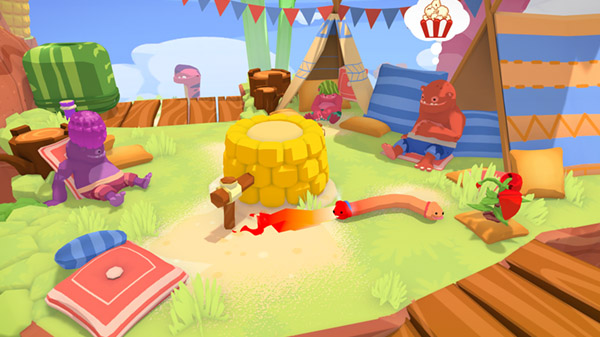 Publisher Coatsink and developer Bit Loom Games have delayed PHOGS! from its previously planned June release window to later in 2020 due to challenges created by the ongoing COVID-19 pandemic. It will be available for PlayStation 4, Xbox One, Switch, and PC via Steam when it launches.
PHOGS! will also take part in the Steam Game Festival: Summer Edition starting June 9 at 10:00 a.m. PT / 1:00 p.m. ET, through which the PAX East 2020 demo of the game will be playable publicly for the first time. (Update: Steam Game Festival: Summer Edition has since been delayed to June 16 to 22.)
Here is an overview of the game, via Coatsink:
About

In PHOGS!, you play as a duo of dogs on a captivating, puzzle-filled adventure. Linked by a stretchy belly, you'll need to bark, bite and bounce your way through obstacles set across the themed worlds of Food, Sleep, and Play in co-op or single-player.

Key Features

Red and Blue are the ​goodest of doggos who will accompany you through your entire fun-filled adventure.
Linked by a stretchy belly, your Phogs are inseparable… for better or worse!
Explore 24 fantastical levels stuffed with exciting challenges and creatures to play with.
Forage through Food World, teeming with tasty treats. From hot buttered toast to chopped celery… even a river of chocolate!
Stroll through Sleep World, complete with teddy bears, cushions and quilts, all nestled in the glow of the soothing night-light.
Pounce through the crazy toybox of Play World, exploring a beach amusement park, a retro arcade, and everything in between. Woof!