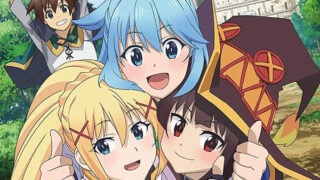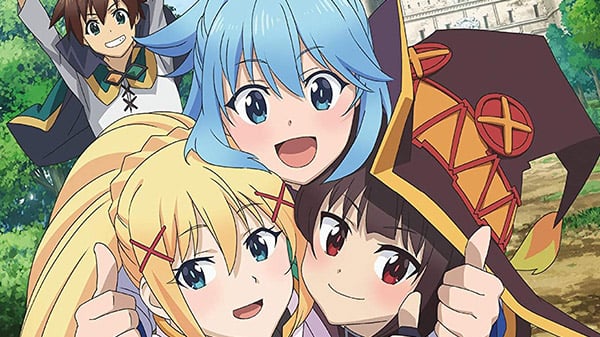 MAGES. has announced KonoSuba: God's Blessing on this Wonderful World! Love for this Tempting Attire for PlayStation 4 and Switch, the second adventure game in its KonoSuba game series. It will launch on September 24 in Japan for 7,800 yen. A limited edition will also be available for 10,800 yen.
The limited edition includes an SD character figure of Aqua for the Switch version and Megumin for the PlayStation 4 version, both in special outfits, as well as the game's original soundtrack CD.
First-print copies of both the standard and limited editions include a product code to download a bonus shoot 'em up game.
KonoSuba: God's Blessing on this Wonderful World! Love for this Tempting Attire follows a game-original story that revolves around the "Black Slab" that protagonist Kazuma and company find during a quest, which has the ability to make outfits. But the discovery of this slab was the start of new troubles for Kazuma's party. First, royal prosecutor Sena falsely accuses them of theft to banish them from the kingdom. And then they discover that the slab has "a curse that makes one's desires the exact opposite." This turns the masochist Darkness into a ruthless and cool-headed queen, Megumin into the founder of a loli alliance, and Aqua into a primp and proper goddess. To break the curse, Kazuma must use the Black Slab to make outfits that fulfill their desires.
To create those outfits, Kazuma will need to take on various jobs and quests. He can use the materials gathered during jobs and quests to complete the creation of each outfit. The following is the flow of the game:
Set Your Schedule – Set a schedule for Kazuma, Aqua, and the rest of the group. If you do not complete an outfit by the cutoff date, you will get a "Game Over."
Take on Jobs and Quests – Take action based on your schedule. The amount of money and materials you obtain will differ depending on whether you succeed or fail. Scenarios related to jobs and quests will also occur.
Head Out – Head out to the mansion or the town of Axel and gather information about making outfits. Scenarios that let you enjoy the daily lives of various characters will also occur.
Create an Outfit – Create an outfit using the materials you gathered during jobs and quests. Even with the same outfit, the variation differs based on the materials used, and events will occur that let you make sure of the outfit's effect.
In addition to the usual party, characters like Wiz, Yunyun, Chris, Sena, and Vanir will also appear. Dialogue is fully-voiced, and you can enjoy seeing the heroines in various outfits.
View the first screenshots at the gallery. Visit the official website here.