Invisible, Inc. now available for Switch
Turn-based tactical stealth game gets a new port.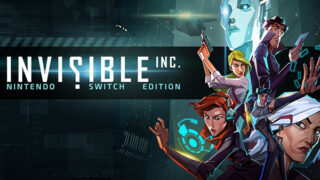 A Switch version of turn-based tactical stealth game Invisible, Inc. is now available via the Nintendo eShop for $19.99.
Invisible, Inc. first launched for PC, Mac, and Linux in May 2015 following an Early Access period that began in January 2014. A PlayStation 4 version was released in April 2016, followed by an iOS version in October 2016.
Here is an overview of the game, via Nintendo.com:
About

Tactical Espionage. Take control of Invisible's agents in the field and infiltrate the world's most dangerous corporations. Stealth, precision, and teamwork are essential in high-stakes, high-profit missions, where every move may cost an agent their life.

Key Features

Character Selection – Start with any of the 10 unlockable agents in the game, plus 8 agent variants, and 10 starting programs to crack corporate security.
Deep Customization of Builds – Each play through is different as you create your own strategy using agents, items, augments and programs, and adapt to your surroundings.
Randomly Generated World – Locations, threats, and loot are randomly generated so each playthrough is vastly different and you'll never get complacent.
Choose Your Own Game Mode – With five different game modes and extensive custom generation options, each player can play the way they prefer.
Includes the "Contingency Plan" Downloadable Content – An expansion that extends the campaign time and adds new rewards, agents, programs, and danger to the base game of Invisible, Inc.