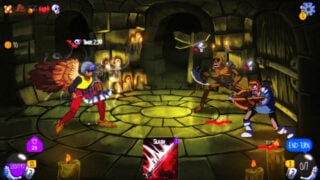 Publisher Another Indie and develoepr OneShark have announced deck builder Doors of Insanity for for PlayStation 4, Xbox One, Switch, and PC (Steam). It will launch first as a Steam Early Access title, where it will remain in Early Access for about six months.
Here is an overview of the game, via its Steam page:
About

Embark on an epic ass-kicking, card-slinging journey across purgatory. Create your custom character, build your deck, and do battle with the twisted denizens of purgatory and journey to the paradise you deserve. Cast spells, summon allies, and equip a variety of items and equipment as you explore what lies behind the Doors of Madness. No sword is too big, armor too thick, or ally too obnoxious!

Key Features

Permanent card deck builder. After each death you get to keep one card for the next run.
Collect and use over 70 cards.
Summon seven allies including Shield Beaters, Wizards, and Demonic Bugs!
Wield a variety of magic weapons including powerful Sword Of The Three Saints and the less-powerful Dad's Hammer.
Engage in over 30 encounters behind the doors of madness.
Travel through four major areas that hold more than 40 doors of unknown!
Watch the announcement trailer below.