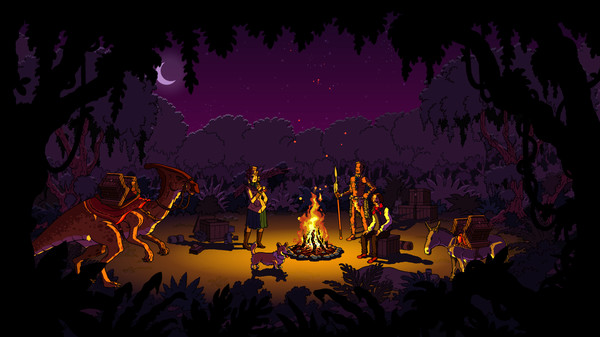 Curious Expedition 2 will launch for PC via Steam Early Access on June 17, publisher Thunderful and developer Maschinen-Mensch announced.
The 19th century expedition simulation game is planned to remain in Early Access until fall. An official release date will be announced at a later time. It is also planned for release on consoles.
"We're really excited to enter the Early Access phase with Curious Expedition 2," said Maschinen-Mensch co-founder Riad Djemili in a press release. "Involving our players in the development process has been fundamental in shaping and improving the original Curious Expedition, and we're sure it will be the same for the sequel."
Here is an overview of the game, via its Steam page:
About

Curious Expedition 2 is the follow-up to the award-winning 19th century expedition simulation. Join the legendary Explorer Clubs and venture on unprecedented voyages to regions never before explored for fame, science and treasure!

Features

Explore procedurally generated worlds in a variety of biomes, each featuring a new combination of dangers and opportunities.
Manage your resources to keep your trek alive and sanity high. Balance greed against your survival needs to find glory without perishing.
Procedural storytelling makes every adventure unique. Your characters form relationships, change loyalty, acquire mental illnesses, and more in response to the environment and your decisions.
Embark on an epic campaign that combines procedural gameplay with handcrafted story to create a narrative experience that can be played again and again.
All-new combat mechanics will require all your cleverness to survive fierce wild animals and legendary creatures.
Join online challenges and pledge yourself to an Explorer Club to compete for unique rewards.
Outfit your party members with equippable gear to create builds that can take on any challenge.
Set off on all-new expedition types, each with their own unique goal and events. Will you seek out the legendary Golden Pyramid or choose to recover the Rainbow Orchid instead?
Explore and discover mysterious locations. Plunder ancient shrines, haggle with strange mole people, loot ghostly pirate ships, and more…
4K-native graphics featuring a classic comic-inspired art style.
Veteran CE1 players will discover tons of new content: new items, character types, enemies, biomes, tribes, events, and more!
Watch the Steam Early Access announcement video below.