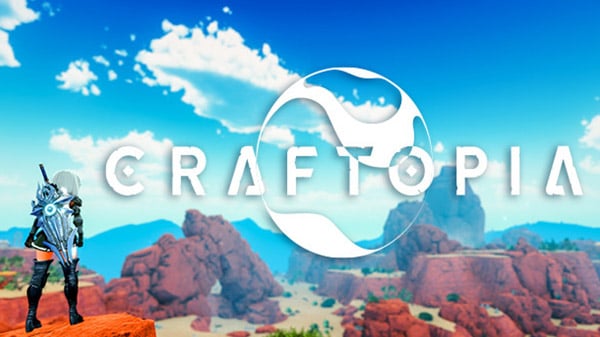 Craftopia, "a game where you can do anything you've ever dreamed of," will launch for PC via Steam Early Access in July, developer Pocket Pair announced. Users can apply to the closed alpha test by following Pocket Pair on Twitter and retweeting this tweet.
The Early Access version will feature "over 1,000 items, over 30 skills, over 50 enchantments, character equipment, and gimmicks such as fire interference." The developer expects Craftopia will remain in Early Access "for a minimum of one year." The full version will feature "an even greater amount of items, gimmicks, enchantments, skills, and more," as well as additional biomes and possibly "radical game systems" such as a "Battle Royale" mode.
Here is an overview of the game, via its Steam page:
About

What if you were thrown into the open-world full of resources and lives?
What if you would live on the planet where you are the one who began civilizations?
What if you could do anything you've ever dreamed of?
What if you could get to know those places?
Let me tell you, it's right ahead of you.

Craftopia is a brand new crafting game that takes influences from many major crafting games and blends them together. Experience the best of crafting, hack-and-slash, automation, survival, and a variety of other elements melded together in the best of games with people from all over the world.

Key Features

Craft – Collect and combine resources to craft more than 3000 different items.The possibilities for items combined with the enchantment system are endless. Experience a whole new craft hack-and-slash game.
Run Your Own Farm – At Craftopia, you can grow a variety of crops, sell them at market, and run your own farm.Is it a hassle to grow crops? For you, our automated robots are here to help you run your farm!
Explore Biomes and Dungeons – As you explore the world, you'll find that there are many different biomes in this vast unknown world. Islands, mountains, rainforests, archipelagoes, swamps, large holes, floating islands and a variety of fascinating biomes will spur you on to the adventure. In the dungeons scattered around the world, you may find treasures you've never seen before. However, if you can defeat a deadly boss, that is.
Skill Tree – As your character levels up, you can create your own skill tree.You can use a variety of skills, such as arts, magic, and exploration, to make your adventures more convenient, courageous, and dynamic.
Automation – Are collecting trees and stones for craft games a chore? With Craftopia, most of the work can be industrialized. Leave the tedious foraging work to the robots and focus on your craft and adventure!
Multiplayer – Craftopia also supports multiplayer! Build a server and invite your friends to play on your own vast map!