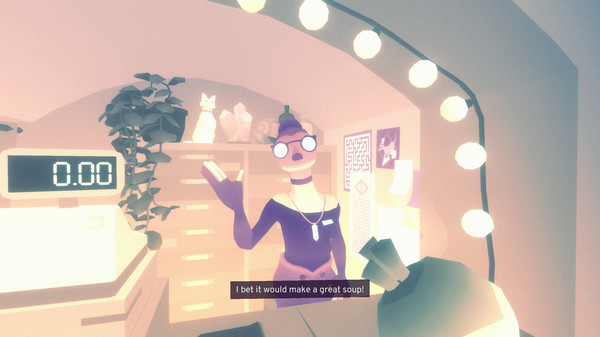 KO_OP has announced and released Depanneur Nocturne, a short exploration game about poking around a convenience store and finding a gift with the help of its owner. It is available for PC via Steam for $4.99.
Depanneur Nocturne is part of KO_OP mini, a new initiative within KO_OP that allows the development team to be able to experiment without the demands of a large production.
Here is an overview of the game, via its Steam page:
About

10:50 PM.

My bichette is waiting at home and I'm determined to bring her something special. The little dépanneur on this side street may still be open. It's my last chance.

A small game by G.P. Lackey.

You're out on a rainy late-night quest for a very particular gift. The only problem is you don't know what it is yet…

Finding a corner store that's open at this hour must be kismet! With the help of its peculiar proprietor and her unusual inventory, you're sure to find something worth your search. What will the gifts you pick foretell?

The dep is closing in an hour, so be forewarned… this is a single-sitting game.

Key Features

Shop and explore at your own pace, discovering new secrets the longer you stay.
Collect as many or as few gifts as your heart desires, budget is of no concern when it comes to your love!
Set in a magical, mystical interpretation of Montreal.
Estimated completion time: one-to-two hours, a miniature jaunt.
Fully bilingual (English and French with a Quebec twist)—switch as you like!
Watch the announcement trailer below.