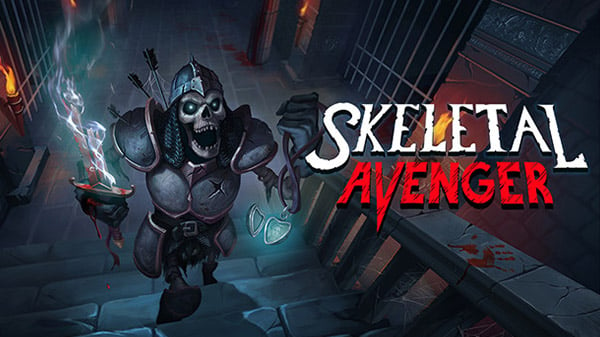 10tons has announced rogue-lite hack-and-slash Skeletal Avenger for PlayStation 5, Xbox Series X, PlayStation 4, Xbox One, Switch, and PC (Steam). It will launch in late 2020.
Here is an overview of the game, via its Steam page:
About

Skeletal Avenger is a fast-paced ultra-responsive hack'n'slash action with a massive weapon arsenal and decapitating special moves! Avenge a thousand wrongs in a reverse roguelite where the skeletal avengers ascend from the depths to extract vengeance!

Fast-paced ultra-responsive hack'n'slash action.
Decapitate yourself to do special attacks: Your hat determines the effect.
Reverse roguelite: Ascend from the depths and exact revenge.
Endless amount of quests to complete – each one ending in sweet revenge.
Gain rewards and equip your avengers with increasingly powerful gear.
Single player and two-to-four player local co-op.

Key Features

Head First into Revenge! – Decapitate yourself and unleash devastating special attacks! Complete quests to expand your arsenal and become an undead machine of revenge!
Fight for Your Unlife – Fast-paced ultra-responsive hack'n'slash gameplay with a number of weapons including swords, spears, hammers, daggers and more!
Reanimate Avengers – Reanimate avengers yearning for revenge. Each avenger has a unique grudge to settle – you'll make sure the dish is served cold! Steer your avenger through unique procedurally generated challenges with endless variety.
Expand Your Arsenal – Complete revenges to gain new tools which make you more powerful. New weapons, headgear, armor and boots will grant you new perks and fantastic tools of destruction.
Watch the announcement trailer below. Visit the official website here.