Ninjala details in-game purchases, second open beta test set for May 31
Details on the season pass, gacha machine, and more.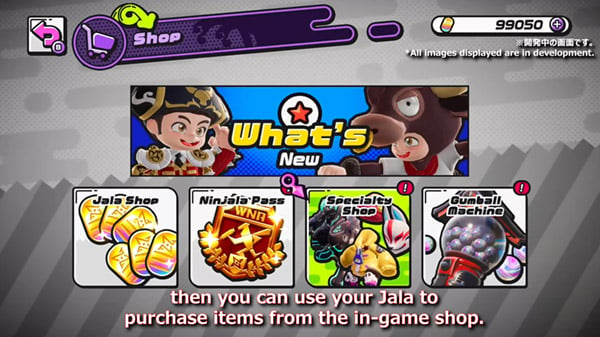 GungHo Online Entertainment has released a new developer diary for Ninjala detailing in-game purchases, as well as announced a second open beta test for May 31.
The second open beta test will run from the following times:
Japan

May 30 from 12:00 to 13:59 (JST)
May 31 from 12:00 to 21:59 (JST)

North and Central America Region

May 31 from 12:00 to 21:59 (PDT)

Europe

May 31 from 11:00 to 20:59 (BST)
May 31 from 12:00 to 21:59 (CEST)

Asia and Oceania Region

May 31 from 14:00 to 23:59 (AEST)
May 31 from 12:00 to 21:59 (HKT)
Before going into detail on in-game purchases, Ninjala game designer Kazuki Morishita and director Motoki Kaneda stressed that Ninjala is a free-to-play title that does not require a Nintendo Switch Online subscription to participate in online battles, nor is it "pay-to-win" as ultimately "your skills will determine your success."
Here are the details:
"Jala" is the name of the in-game currency, which can be purchased from the Nintendo eShop. Jala can then be used to purchase items from the in-game shop.
The seasonal "Ninjala Pass" costs 950 Jala. You can earn costumes, emotes, stickers, Ninja Medals, and even Jala as rewards for completing the tiers offered by the Ninjala Pass. It is designed to give you rewards to aim for throughout the season. If you complete all 100 tiers, you will earn more than 950 Jala, earning you back your purchase.
The "Ninjala Pass Ninja Bundle" costs 2,800 Jala and starts off with the first 25 tiers already completed. You can progress through the Ninjala Pass tiers by earning Tier Points from online battles, or by spending Jala.
The Specialty Shop hosts items that are available for a limited time, including items that change out on a daily bases.
In Ninjala, ninja are able to craft weapons and use Ninjutsu by chewing a special gum called "Ninja-Gum," which you can obtain from the Gumball Machine area of the shop. Unlike ordinary gacha, items obtained from here will only change the look of your weapon and not affect its power or abilities. All weapon types are provided at the start of the game, meaning you will be able to use all weapons right from the beginning. However, the Ninja-Gum available from this machine is consumable and will disappear after one use. The Gumball Machine will also contain a "special item" in the form of a limited costume. You can use the Gumball Machine by spending either Jala or the Gold Ninja Medals obtained by playing the game.
Ninja Medals are a reward obtained through battle and are mainly used to power-up your character. You can set up to four "Shinobi Cards" to power up your character at first, but by using Ninja Medals you can increase that limit. Each Shinobi Card also has three sub-skills called "Assist Codes," which can be obtained as battle rewards.
Ninjala is due out for Switch via the Nintendo eShop on June 24 in the west and June 25 in Japan. Read more about the game here and here.
Watch the developer diary below.