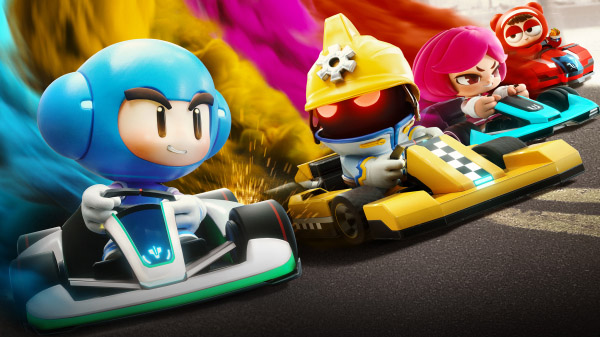 Nexon will host a second closed beta test for KartRider: Drift across Xbox One and PC via Steam and the Nexon Launcher starting June 3, the developer announced.
Users can register for a chance to join the second closed beta test at the game's official website. Those invited to participate will receive an acceptance email and can pre-download the game starting June 1 at 7:00 p.m. PT / 10:00 p.m. ET. Users who participated in the first closed beta are automatically included.
Here is an overview of the second closed beta test and the game itself, via Nexon:
About Closed Beta 2

During the closed beta period, players will be introduced to new character Diz, as well as new skins for existing characters, plus additional karts and tracks. The closed beta will also showcase new functions such as "Racing Pass" and a new "Racing School" single-player mode, where new and experienced players can improve their racing skills.

Customization will be a huge part of this closed beta with the preview of the new wraps, which allows racers to paint their karts and create unique designs for maximum personalization. Participants will also have access to kart upgrades including choice of license plate and can decorate their karts with a lineup of new accessory balloons and character emotes.

Players will also see a revamped User Interface with a new HUD and contextual rear view mirror. The matchmaking experience has also been improved as players will be queued based on their performance in the tutorial. Driving physics of the game have also been improved since the first Closed Beta for a better racing experience.

To reward players who log in during the closed beta, special login rewards including a Turbo Tortoise Kart, Bunny Buggy Kart, Simian Scrapper Kart, and Deuce Coupe Kart will be unlocked. All Beta participants will also receive a White Cloud Balloon item at official launch.

Players who sign up for Closed Beta 2 at the official website will be in for a treat as KartRider: Drift has partnered with HyperX, ViewSonic and DXRacer, for an opportunity to win exclusive prizes.

About KartRider: Drift

About

Launched in 2004, KartRider is a massively popular multiplayer racing franchise that boasts more than 300 million PC players. Making its debut to Western audiences, the free-to-play KartRider: Drift takes inspiration from earlier iterations of the game, delivering competitive drift-fueled racing action, featuring different game modes, and deep character and kart customization. Available completely for free on Xbox One, including Xbox One X, Steam and Nexon Launcher (PC), KartRider: Drift offers cross-platform capabilities to challenge friends regardless of the platform they choose or where they are in the world.

Key Features

This is ​KartRider: Drift – Experience the newest free-to-play title in the popular franchise with over 300 million players! Discover the cross-platform multiplayer kart racer featuring high definition Unreal Engine 4 graphics that is the most expansive, accessible, and competitive kart racing title ever!
Grab the Wheel for Free – Race together anytime and anywhere! ​KartRider: Drift ​ is easy to pick up and play across PC and Xbox with no pay walls completely free-to-play with friends across the globe.
Racing Never Looked Better – Take control in the only kart racing game with high definition Unreal Engine 4 graphics and full freedom to personalize your ride. Endlessly customize your character to fit your own unique personality and craft the perfect kart to cross the finish line and top the leaderboards in style.
Take the Lead – Elevate your game through the fastest and most competitive multiplayer sprints in kart racing—KartRider: Drift's exclusive Speed Mode. Push yourself to the limit with Speed Mode's precise controls, advanced drifting system, and highly skilled gameplay. With no items and no RNG, success on the track is determined by skill and mere seconds.
Kart Racing Evolved – More than any other kart racing title, ​KartRider: Drift ​is a living, online multiplayer game that is always adding new karts, characters, skins, tracks, and customization.

Characters

KartRider: Drift introduces global players to a colorful lineup of popular characters from the legendary PC racing game, KartRider, including Dao, Bazzi, Brodi, and Diz available in the closed beta. Additional characters will be added in future iterations with new skins and fun emotes for greater personalization!

Game Modes

Item Mode – Experience dynamic attack with various items and the thrill of competitive racing at the same time. One well-timed attack can change the whole match, so keep your eyes open until you cross the finish line.
Speed Mode – ​Master drifting techniques as you fill up the booster gauge in Speed Mode. Depending on when you press the drift button, you'll experience the thrill of a realistic drift as your speed increases.
Time Attack – ​Players can practice their driving skills on the track and perfect their drift skills. Racing records will be recorded for continued practice opportunities as players try to beat out their time.
Racing School – ​An all new mode being introduced in the second Closed Beta​. ​Here players will learn how to play KartRider: Drift as they complete missions to become the ultimate racer. Additional challenges will be added in the future.
For more information, check out the closed beta FAQ.
KartRider: Drift is due out for Xbox One and PC via Steam and the Nexon Launcher in 2020.
Watch a new trailer below. View a new set of screenshots at the gallery.