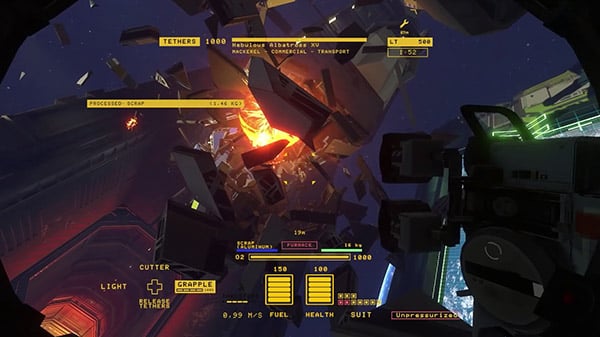 Publisher Focus Home Interactive and developer Blackbird Interactive have released a gameplay overview trailer for Hardspace: Shipbreaker.
Here is an overview of the trailer, via Focus Home Interactive:
From the tools at your disposal, their best use-cases, to how to make the most money from every ship you're sent to cut apart, learn everything there is to know to be a successful spaceship salvager. Hidden dangers, valuable logs, and the deep history of this brand-new, realistic sci-fi universe are concealed inside every vessel. As you become an experienced cutter, you'll upgrade your gear and skills on the path to paying off your debt and making a home out in the solar system. Of course, every mistake costs you, so you'll need to be at your best even in a fully upgraded rig.
Hardspace: Shipbreaker is due out for PC via Steam Early Access on June 16, with a full launch planned for PlayStation 4, Xbox One, and PC.
Watch the trailer below.