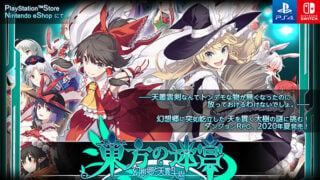 Publisher Phoenixx and developers Cubetype and Nise-Eikoku Shinshidan have announced Touhou Project dungeon RPG Touhou Labyrinth: Gensokyo to Tenkan no Taiju for PlayStation 4 and Switch. It will launch digitally this summer in Japan.
Here is an overview of the game, via Cubetype:
"An item as extraordinary as The Sword of Ame no Murakumo has gone missing. You can't just sit there and do nothing!"

Tackle the mystery surrounding a sky-piercing great tree that suddenly appeared in Gensokyo!
Watch the announcement trailer below. Visit the official website here.