Codemasters to announce new DiRT title by non-Rally studio "very soon"
New DiRT Rally game also teased for further down the line.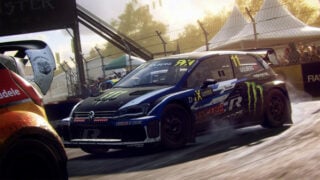 Codemasters will soon a new DiRT title developed by a Codemasters studio separate from the DiRT Rally team "very soon," the company teased.
"Prepare to see something new roar to life in the world of DiRT, very soon," Codemasters said in a letter to the DiRT Rally 2.0 community. "Developed by a separate Codemasters studio to the DiRT Rally team, we're incredibly excited about what's around the corner. We invite you to be part of a brand new experience, while also continuing to enjoy our definitive Rally offering."
The DiRT Twitter account also changed its header and profile images from a DiRT Rally 2.0 screenshot and logo to a general DiRT logo, while the Codemasters Twitter account changed its profile image and tweeted, "Prepare for something… different," before retweeting the letter to the DiRT Rally 2.0 community.
In the same letter, the company confirmed that after four "Seasons" of content, there are no plans for additional Seasons of DiRT Rally 2.0, although "some minor updates and surprises" are still on the way. Daily, weekly, and monthly challenges will continue, and Clubs are "stronger than ever."
A new DiRT Rally game was also teased for release further down the line.
"As for the future of DiRT Rally? Well… we have a few things in mind," Codemasters said. "We have big plans, driven by a passionate development team, solely tasked with taking the Rally series to even greater heights. You won't hear about that for a while, but when you do… oh boy, will you be excited for what's coming."
DiRT Rally 2.0 is available now for PlayStation 4, Xbox One, and PC via Steam.