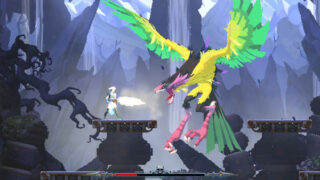 2D action platformer Foregone, which first launched for PC in Early Access via the Epic Games Store on February 27, will launch for PlayStation 4, Xbox One, and Switch on October 5, developer Big Blue Bubble announced.
"We couldn't be happier with the response Foregone has received since its Early Access release," said Big Blue Bubble founder and CEO Damir Slogar in a press release. "We've listened closely to player feedback, and have diligently worked to further improve the Foregone game experience and deliver a more polished product for players to enjoy on their favorite console available this October."
The second update for the Early Access version was released on May 4, which added new weapons, the game's first mini-boss, increased localization support, and more. Read the full patch notes here.
Here is an overview of the game, via Big Blue Bubble:
About

Fast and fluid platformer packed with legendary loot.

Years after a devastating war, the city of Calagan is once again besieged by an all-corrupting force known as the Harrow. As the city's strongest super-soldier, it's up to you to investigate the Harrow's origins and prevent its reanimated minions from destroying the world you've sworn to protect. But the Harrow isn't just reviving the dead – it's dredging up memories better left forgotten.

Foregone is a fast and fluid 2D action-platformer packed with legendary loot and stunning pixel art. Collect an arsenal of powerful weapons and upgradeable skills, then use them to shoot and slash your way through hand-crafted pixel environments hiding a treasure trove of secrets. Unravel a compelling story of regret and conspiracy as you slice your way through hordes of enemies and carry out your mission to save Calagan from total annihilation.

Key Features

Satisfying hybrid of action-platformer and looter.
Narrative-driven gameplay.
Collect an arsenal of legendary weapons.
Challenging enemies and intense boss fights.
Branching skill tree with customizable abilities.
Fluid 3D-to-2D pixel art and animation.
Watch a new trailer below.