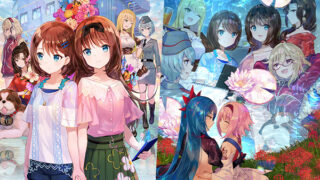 Yumeutsutsu Re:Master and sequel Yumeutsutsu Re:After will launch for Switch via the Nintendo eShop and PC via Steam on April 23 in the west for $64.99 and $49.99, respectively, publisher Degica Games and developer Kogado Studio announced.
While Yumeutsutsu Re:Master is currently available for PC via Steam, it currently only supports Japanese text. An update on April 23 will add support for English and Chinese text. As for Yumetsusu Re:After, the Steam page will soon be available here.
PlayStation 4 and PS Vita versions are also planned for release, but have been delayed to an "unspecified future date" due to complications arising from the ongoing COVID-19 pandemic.
Here is an overview of each game, via their Nintendo.com pages:
Yumeutsutsu Re:Master

"Save your sister" country girl Ai Otori joins the game company where her sister works. There her story of love, mystery, and game-making begins.
Yumeutsutsu Re:Master is a girls-love adventure game set in a small Japanese game studio.

The story is set in the town of Koenji, not far from the imperial capital of Tokyo, where a small game studio called Eureka Soft has set up shop.

The heroine Ai, a country girl, joins her sister Kokoro who works there, after receiving a mysterious email from studio head.

There she meets the quirky all-girl (and a dog) cast: the big sisterly head of the studio, her sister, giving her a cold shoulder, the maid / voice talent, the "tiny dinosaur" scenarist, the uniformed artist, and Banako, the dog and vice-president. Ai starts learning about game making as she slowly pieces together the mysteries of her colleagues.

Ai's world will expand bit by bit, as the game production begins.

Yumeutsutsu Re:After

What happens "After?" Five stories to continue the possible endings of Yumeutsutsu Re:Master. To answer the requests of the fans, here are five new stories of what happens After.

Yumeutsutsu Re:Unification: Follow Ai and Kokoro as they find themselves in charge of the creation of a fan disc for their succesful game. This time, Ai is tasked with the SD arts, while Kororo is tasked with the plot!
Deadline Rather Than Paradise: Saki is now relaxed and planning a trip overseas with her lover when a call for help from the second game team comes in: ""Our scenarist went AWOL."" What will Saki choose?
Ghosts of the Past: Nana, now a successful voice talent and happily wed to Ai, receives a letter from her long dead mother…
Married Life: Ai and Maria have moved out of the dorm and now live in their own house. But married life is fraught with its own challenges.
Love Story, With Her and the Dog: Ai decided Honoka looked best in her swimsuit, but she seemed so completely out of reach, until…