The Last of Us Part II launches June 19, Ghost of Tsushima delayed to July 17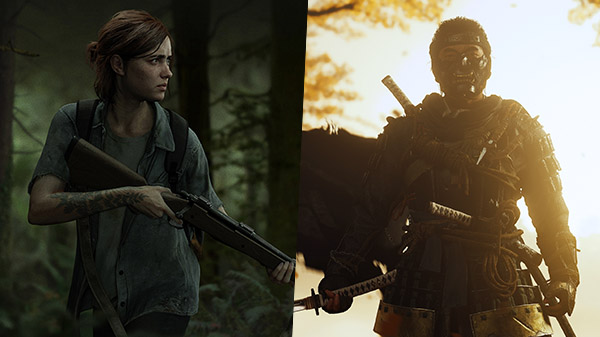 Following a delay from its previously planned May 29 release date, The Last of Us Part II will launch for PlayStation 4 three weeks later on June 19, publisher Sony Interactive Entertainment and developer Naughty Dog announced.
Additionally, Sucker Punch Productions-developed open-world samurai game Ghost of Tsushima has been delayed from its previously planned June 26 release date to three weeks later on July 17, also for PlayStation 4.
"I want to personally congratulate and thank both the teams at Naughty Dog and Sucker Punch Productions on their achievements, as we know it's not an easy feat to reach the finish line under these [COVID-19] circumstances," said Sony Interactive Entertainment Worldwide Studios head Hermen Hulst in a statement. "Both teams have worked hard to deliver world-class experiences, and we can't wait to see what you think of them when they release in just a few short months."
Find an overview of each game below.
The Last of Us Part II

About

Five years after their dangerous journey across the post-pandemic United States, Ellie and Joel have settled down in Jackson, Wyoming. Living amongst a thriving community of survivors has allowed them peace and stability, despite the constant threat of the infected and other, more desperate survivors. When a violent event disrupts that peace, Ellie embarks on a relentless journey to carry out justice and find closure. As she hunts those responsible one by one, she is confronted with the devastating physical and emotional repercussions of her actions.

Key Features

A Complex and Emotional Story – Experience the escalating moral conflicts created by Ellie's relentless pursuit of vengeance. The cycle of violence left in her wake will challenge your notions of right versus wrong, good versus evil, and hero versus villain.

A Beautiful Yet Dangerous World – Set out on Ellie's journey, taking her from the peaceful mountains and forests of Jackson to the lush, overgrown ruins of greater Seattle. Encounter new survivor groups, unfamiliar and treacherous environments, and terrifying evolutions of the infected. Brought to life by the latest iteration of the Naughty Dog engine, the deadly characters and world are more realistic and meticulously detailed than ever before.

Tense and Desperate Action-Survival Gameplay – New and evolved gameplay systems deliver upon the life-or-death stakes of Ellie's journey through the hostile world. Feel her desperate struggle for survival through improved features such as high-intensity melee combat, fluid movement, and dynamic stealth. A broad variety of weapons, crafting items, skills, and upgrades allows you to personalize Ellie's capabilities to your play style.

Ghost of Tsushima

About

In the late 13th century, the Mongol empire has laid waste to entire nations along their campaign to conquer the East. Tsushima Island is all that stands between mainland Japan and a massive Mongol invasion fleet led by the ruthless and cunning general, Khotun Khan. As the island burns in the wake of the first wave of the Mongol assault, samurai warrior Jin Sakai stands as one of the last surviving members of his clan. He is resolved do whatever it takes, at any cost, to protect his people and reclaim his home. He must set aside the traditions that have shaped him as a warrior to forge a new path, the path of the Ghost, and wage an unconventional war for the freedom of Tsushima.

Key Features

In War-Torn Tsushima, Ancient Beauty Endures – In this open-world action adventure, you'll roam vast countrysides and expansive terrain to encounter rich characters, discover ancient landmarks, and uncover the hidden beauty of Tsushima.
The Rise of the Ghost – In his quest to reclaim Tsushima, Jin must seek support from old friends and new unlikely allies. He must break away from tradition, become a new kind of warrior, and protect what's left of his home at all costs.
Mud, Blood, and Steel – Challenge opponents with your katana for an immersive samurai combat experience, master the bow to eliminate distant threats, and develop stealth tactics to disorient and ambush enemies with surprise attacks.