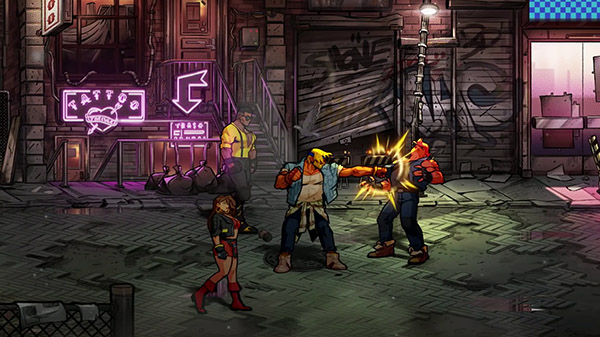 Publisher and developer Dotemu and developers Lizardcube and Guard Crush Games have released the launch trailer for Streets of Rage 4, which is available now digitally for PlayStation 4, Xbox One (including Xbox Game Pass), Switch, and PC via Steam. The game is available at a 10 percent off the regular $24.99 price point for the first four days of release for PlayStation 4, Switch, and PC.
As a reminder, Limited Run Games will release limited print physical standard and special editions of Streets of Rage 4 for PlayStation 4 and Switch. Pre-orders are available now and will close on May 10.
Here is an overview of the game, via Dotemu:
About

The first mainline series entry in more than 25 years, Streets of Rage 4 infuses the series' classic elements with a modern evolution of gameplay, art and design, giving fans an authentically faithful tribute which still offers a distinctive experience.

Key Features

An All-New Story: Discover and counter new threats to the metropolis in events set 10 years after Streets of Rage 3.
New and Returning Fighters: Series veterans Axel, Blaze, and Adam team up with newcomers Cherry and Floyd for a glorious beatdown-fueled return to form.
Gorgeous Hand-Drawn Artwork: An intricate, neon-soaked envisioning of Wood Oak City brings its districts and brawlers to life through fluid animation and striking designs.
Evolved Combat: New combo possibilities, risk-reward health recovery, and clever refinements give Streets of Rage fans ample opportunities to rack up killer combos.
An Electrifying All-Star Soundtrack: Lead Composer Olivier Derivière upholds Streets of Rage's signature sound while adding new sonic direction with substantial contributions from series composers Yūzō Koshiro and Motohiro Kawashima and an East Meets West all-star lineup of contributors.
Retro Pixel Characters: Embrace your nostalgia by fighting like hell to unlock a dozen pixel characters complete with their original movesets from Streets of Rage 1, 2, and 3.
Pulse-Spiking Throwback Music: Knock out enemies to timeless songs selected from Streets of Rage 1 and Streets of Rage 2 soundtrack.
Online and Offline Co-Op: Call friends in for backup and let loose via two-player online and four-player offline co-operative play.
A Feud-Ending Battle Mode
A Relentless Boss Rush Mode: Prove your might against an onslaught from the deadliest opponents in Wood Oak City.
A Fair Fight for Everyone: Choose from a range of five difficulty settings to suit your play style, whether you're a newcomer learning your first combos or a hardcore fighter looking for a brutal challenge.
Watch the launch trailer below.