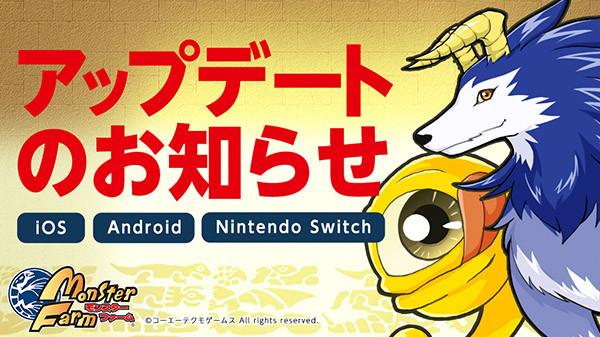 Koei Tecmo has released a free update for Monster Rancher for Switch, iOS, and Android in Japan, which adds new monsters, a player participatory Tournament Mode, and more.
Here are the details:
Save Slot Added

One free manual save slot has been added. In addition to the two free save slots, you can purchase up to 12 additional save slots for 120 yen each, or the full 12-pack for 980 yen.

Battle Mode: 1P Entry Method Changed

While you were previously only able to select your own monster, now you can select from monsters uploaded by other players, making battles and tournaments between players easier.

Player Participatory Tournament Mode Added

Player participatory tournaments will be held in the future. Players will be able to participate by simply registering a monster that meet the tournament's conditions, and battles will play out automatically without instruction from breeders.

Music Data Added

Added music data for CD titles released between September 29, 2019 and February 1, 2020, and for Switch physical edition titles released between September 2019 and January 2020. (The latter data is exclusively for the Switch version.)

New Monsters Added

New monsters derived from existing monster species have been added.

Other

Added Ability Total display.
Other subtle changes and bug fixes.
Monster Rancher is available now for Switch via the Nintendo eShop, iOS via the App Store, and Android via Google Play in Japan.