Mobile Suit Gundam: Battle Operation 2 downloads top two million
Bandai Namco celebrating with in-game "Thank You Campaign."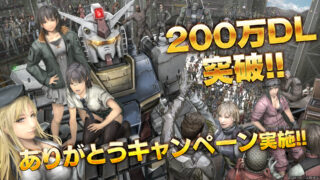 Mobile Suit Gundam: Battle Operation 2 has surpassed two million downloads worldwide, Bandai Namco announced.
The free-to-play team battle action game first launched for PlayStation 4 in July 2018 in Japan and Asia. An update that added English language support followed in October 2018. The official western release launched in October 2019.
To celebrate the downloads milestone, Bandai Namco is hosting an in-game "Thank You Campaign" from now until May 6 at 9:59 p.m. PT / May 7 at 12:59 a.m. ET. Here are the details:
Login to claim 30 free Tokens (enough for 10 Supply Drops).
Recon Team's container finding rate raised to 100 percent during the campaign period. A gold / silver container is also guaranteed after you have found three bronze containers (normally, at least 10 bronze containers are required).
A "2 Million Downloads Boosted Supply Drop" is now available. You will receive an extra 11th item from the bonus list when requesting a 10-pull supply drop.
The base camp has been decorated with "2 Million Downloads" decorations. Users who login will receive special avatar items.
"2 Million Downloads Limited Special Missions" are now available. Complete the missions to receive special rewards such as "Dom Tropical (Test Type)." (More details available here.)
Read more about Mobile Suit Gundam: Battle Operation 2 here.