Honkai Impact 3rd 'Dawn of Glory' update launches April 2, 'A Post-Honkai Odyssey' open world launches April 6
New battle suit "Valkyrie Gloria" also launching April 3.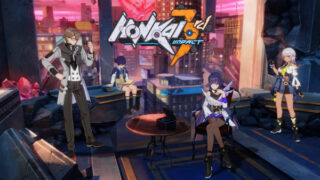 miHoYo will release the version 3.8 update for Honkai Impact 3rd, dubbed "Dawn of Glory," on the game's global servers on April 2, as well as the new battle suit "Valkyrie Gloria" on April 3 and new open world "A Post-Honkai Odyssey" on April 6. It will be available simultaneously across the iOS, Android, and PC versions.
Get the details below.
About Honkai Impact 3rd

Featuring stunning cel-shaded graphics, immersive storytelling, infinite combo action and smooth controls, Honkai Impact 3rd has won itself an international following since launching on mobile devices, achieving over 200 million downloads and frequently topping worldwide Apple Store and Google Play charts. By late 2019, Honkai Impact 3rd had launched the PC client and added the support for single account play across platforms, introducing the acclaimed experience to new audiences everywhere.

Honkai Impact 3rd is set in a modern world corrupted by mysterious energy known as "Honkai." Lead a fledgling resistance of "Valkyries," brave girls carrying anti-Honkai genome, against the spreading Honkai disaster to protect all that is beautiful! Control up to three Valkyries in battle and switch between them freely to overcome any situation, as well as customize the stats and skills of Valkyries with an expansive selection of equipment!

About "A Post-Honkai Odyssey"

The upcoming open world "A Post-Honkai Odyssey" is Honkai Impact 3rd's biggest activity update so far! Players will join the special task force to unearth the perturbing secrets in St. Fountain, the City of Rebirth, in the eighth year following the end of Honkai. "A Post-Honkai Odyssey" has incorporated the vertical axis to allow three-dimensional combat and exploration, Aerial Combo QTE and Joint QTE to expand the QTE system, and more graphic features including dynamic lighting and destructible environment to create a much more realistic battlefield! New QUA-type battlesuit "Valkyrie Gloria," which excels at dealing Fire DMG up close and controlling enemies with Throw Counter, is also debuting in version 3.8.

Honkai Impact 3rd players on the Global servers are required to update version 3.8 in-app starting from April 2, 2020. "Valkyrie Gloria" and "A Post-Honkai Odyssey" will be available on April 3 and April 6 respectively.
Watch a new set of trailers below. View a new set of screenshots at the gallery.
Version 3.8: "Dawn of Glory" Trailer
"A Post-Honkai Odyssey" Trailer