Grisaia: Phantom Trigger 01 & 02 coming to Switch this summer in Japan
Two-volume visual novel collection gets a Switch port.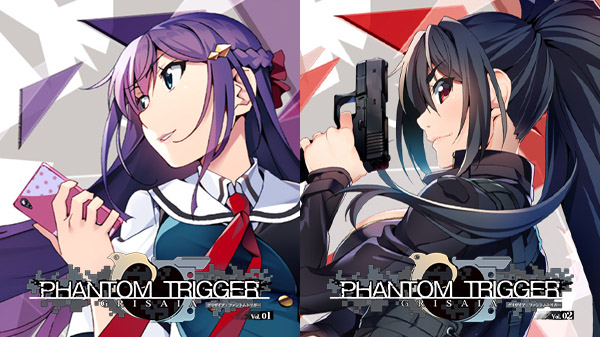 Grisaia: Phantom Trigger 01 & 02, which first launched for PS Vita in December 2017 in Japan, is coming to Switch exclusively via the Nintendo eShop this summer in Japan for 1,818 yen, the latest issue of Weekly Famitsu reveals.
The collection includes both Grisaia: Phantom Trigger 01 and Grisaia: Phantom Trigger 02, which were originally released for PC in April 2017.
Both games can be played entirely with a single Joy-Con, as well as with the touchscreen. The collection also includes a function that disables Switch's automatic sleep settings during Auto Mode and movie playback.
Here is an overview of each game:
Grisaia: Phantom Trigger 01 (Steam)

About

Grisaia: Phantom Trigger is a visual novel series set in the world of the acclaimed Grisaia franchise, featuring a totally new storyline and cast of characters, and brought to you by returning character artist Akio Watanabe and writer Ryuta Fujisaki.

Story

This new incarnation of Mihama Academy is home to a diverse group of students, who every day work to polish their unusual skills – sometimes on the job. There's a gunslinger called Rena (nickname: "The Rabid Dog"), a sniper named Tohka, a demolitions expert called Chris, a spy named Murasaki, and finally, Haruto, their handler. Together they make up an agency called SORD (Social Ops, Research & Development). The specialist training school now entrusts the misfit girls who attend it with guns and live ammunition in the name of national defense.

Paying their own safety no heed, these students are again and again plunged into dangerous extrajudicial missions—all for the good of the realm.

"We've been granted a place in the world.

That alone isn't enough—there wouldn't be any meaning in living, if that was all we had…

It's not enough just to get by on the backs of others. I live by my own strength, and I fight to survive.

Because only the survivors among us belong with the living…"

No matter how much life grinds them down, what future awaits these girls, who've themselves chosen the path of the gun?

Grisaia: Phantom Trigger 02 (Steam)

Grisaia: Phantom Trigger is a visual novel. More specifically, it is a kinetic novel, without any branching routes. Returning character artist Akio Watanabe and writer Ryuta Fujisaki bring you the latest installment in the acclaimed Grisaia series, Grisaia: Phantom Trigger.

Story

5:30 AM – U__ Harbor, K__ Prefecture.

A VIP arriving from abroad mysteriously disappears in transit. The SORD team at Mihama Academy (Rena, Tohka, Chris, and Murasaki) are presented with a new mission: finding and recovering him.

Whenever they appear to be closing in on this missing "package", though, it somehow slips through their fingers.

Accompanying them on their mission are two fellow SORD members from the Kyousen Sakuragaoka campus—twin sisters, who both help and hinder the crew.
There have also been rumors floating around of a daredevil biker named "Soul Speed", who tears up the streets at night. What role might she play in this escapade?

Before long, the team's thrilling chase descends into a deathmatch, pushing the combatants to their limits and beyond. Rena and Haruto, meanwhile, are taken on a journey deep into the past, to their first ever encounter.

"What are you good at?"

"I'm just a crybaby and a wimp… All I can do is kill…"

"Do you plan on buying me…?"

"If the price is right."

Did Haruto really show Rena the path to salvation? Or is she on the road to hell…?
Thanks, Ryoktuya2089.