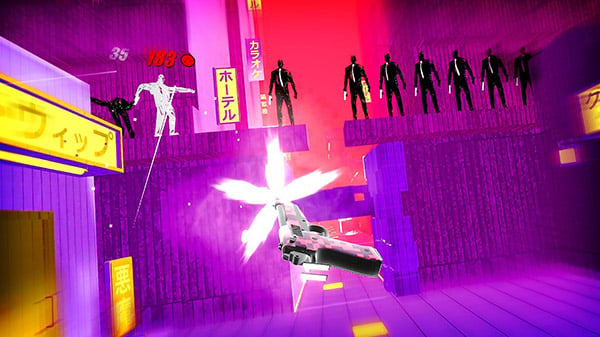 Action rhythm first-person shooter Pistol Whip will launch for PlayStation VR this summer, developer Cloudhead Games announced.
Pistol Whip first launched for PC via Steam, Oculus Quest, and Viveport in November 2019.
Here is an overview of the game, via PlayStation.com:
About

Pistol Whip is an unstoppable action-rhythm first-person shooter. Journey through a cinematic bullet hell powered by a breakneck soundtrack to become the ultimate action hero legend.

Inspired by God-mode action movies like John Wick and Equilibrium, Pistol Whip throws you gun-first into an explosive batch of hand-crafted action scenes each set to their own breakneck soundtrack. But unlike traditional music games, Pistol Whip has no line in the sand; you have complete freedom to shoot, melee, and dodge targets to the rhythm YOU see fit.

Key Features

A New Kind of Rhythm Game: Pair the pulse-pounding pace of an FPS with the flow-state energy of a music game in a cinematic symphony of violence.
Play How You Want: Form your rhythm and find your playstyle, from tactical to musical, then challenge your skill with friends and world leaderboards.
Hand Crafted Levels: Infiltrate a fever dream of hand-crafted scenes, from bank heists to android uprisings, each uniquely designed to music.
Mix Things Up With Mods: Take it over-the-top with a variety of gameplay mods, such as Dual Wield, to enable the ultimate gun kata experience.
Comfortable Motion: Constant momentum and comfort-first design allows non-stop speed without the fear of motion sickness.
Breakneck Soundtrack: Featuring EDM artists from Kannibalen Records, including Apashe, HVDES, and Black Tiger Sex Machine; with more to come…
Weapon Crate: Customize your gun's appearance with options for colours, wraps, and sound effects to suit the action hero you want to be.
Post-Launch Support: Pistol Whip will continue to receive updates with new scene packs, modifiers, weapon customization, and more in the months to come.
Watch the PlayStation VR announcement trailer below.