'Ninjala Episode 0 – Ninja-Gum is Born' CG movie
Witness the birth of Ninja Gum... and its side effects.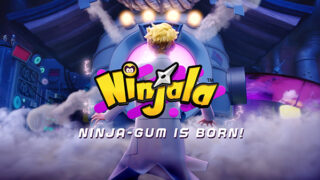 GungHo Online Entertainment has released "Ninjala Episode 0 – Ninja-Gum is Born," a 10-minute CG movie for Ninjala, its free-to-play online action battle game due out for Switch on May 27 in the west and May 28 in Japan.
Here is an overview of the story and cast, via GungHo Online Entertainment:
About

Eagle City, Komerica—WNA Research Laboratory Branch.

WNA researchers Burton, Berecca, and Ron continue their tireless efforts to develop "Ninja-Gum"; a mysterious substance that activates latent Ninja DNA in people descended from those legendary mercenary warriors (alt: those legendary mercenaries from days gone by).

Today, all their hard work finally pays off. It is here – on their 2,503rd attempt – that they finally succeed in producing Ninja-Gum!

Burton and Berecca can barely contain their excitement, and waste no time in trying the gum for themselves!

But then…

Cast
Watch the movie below.
English
Japanese