Metro station simulation game STATIONflow for PC launches April 15
Control the flow in new game from Szabo Marcell and Tak Fujii.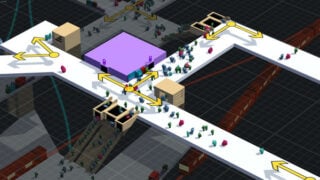 Metro station simulation game STATIONflow, which first launched for PC via Steam Early Access in December 2019, will fully launch via Steam on April 15 for $17.99 / €14.99, publisher and developer DMM Games announced.
STATIONflow is designed by game director Szabo Marcell at DMM Games with support and oversight from Japanese game producer Tak Fujii, who is known for Ninety-Nine Nights II and Gal Metal (and being extreme).
"I am excited to share our latest project today," said STATIONflow producer Tak Fujii in a press release. "This is a game created by a small team with big ideas and a big heart—and wouldn't be possible without the dedication and hard work from game director Szabo Marcell. I hope players enjoy it, and I challenge everyone to make over one million passengers happy!"
Here is an overview of the game, via DMM Games:
About

STATIONflow was created by a small team with big dreams of making the ultimate metro station simulation. Created and designed by game director Szabo Marcell at DMM Games with full support and oversight from legendary Japanese game producer Tak Fujii (Ninety-Nine Nights II, Gal Metal), STATIONflow is a game about controlling the flow of thousands of passengers by building and managing an efficient underground train station.

Control the flow in STATIONflow!

Have you ever been stuck in a underground train or subway station, crowded and congested, fighting to get on the escalator? Have you ever wandered around lost, cursing the lack of proper signage? Have you ever thought to yourself "I could design this station better"? Now's your chance, with STATIONflow!

Manage the flow of thousands of passengers with different needs, stats and targets, simulated in real time.
Build complex 3D layouts in a multilayered map.
Place and shape corridors and structures freely, without the constraints of a grid.
Connect your station with stairs, escalators and elevators as efficiently as you can, but make sure everything is accessible.
Keep things functional and efficient: your goal is to avoid congestion and to get passengers to where they want to go as quickly and smoothly as possible.
Guide passengers via signage, and watch the flow of passengers change. Manipulate the path people take to avoid crowds—sometimes the shortest route is not the most efficient.
Satisfy your passengers' desires for various services: place vending machines and kiosks, construct bathrooms, restaurants and more. Passengers will expect more than just to find their exit on time.
Don't forget about upkeeps. You're on a budget, so you'll want to keep your station lean and efficient⁠—but make sure it isn't at the cost of passenger satisfaction!
And of course, the higher-ups are always watching. You will receive daily evaluations based on passenger feedback. Do well, and you will be rewarded with an extended budget and additional construction options, but also given increased responsibilities. Do poorly, and you may well be on your way to bankruptcy…
Watch a trailer below.