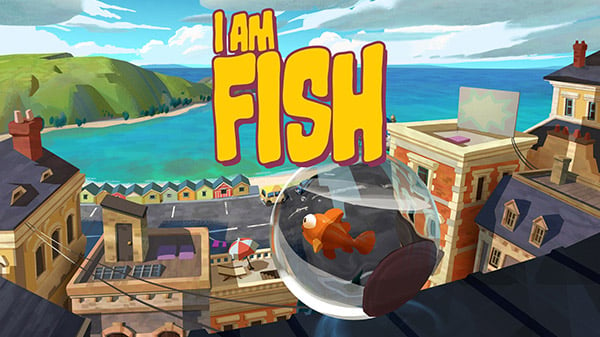 Bossa Studios has announced that I Am Fish, which was first released as part of the Bossa Presents prototype initiative in October 2019, is in production for a full commercial release in 2021.
"We received a huge amount of feedback across all three prototypes in Bossa Presents and it was clear to us that they all had their fans," said Bossa Studios co-founder Imre Jele in a press release. "What separated I Am Fish from its companions was the passion players had for their little fish's journey and their enthusiasm about what a full game could be. We loved seeing all the clever tricks people used to complete the levels in ways we didn't expect and we were swept away by all the tales of pain and joy that happened along the way. Of course, we haven't forgotten Pigeon Simulator or Trash Bandits—watch this space as you'll eventually be hearing more about them!"
Here is an overview of I Am Fish, via Bossa Studios:
I Am Fish sees players navigating one plucky fish through traps, trials, and tribulations on epic journeys to the freedom of the ocean.

I Am Fish is the successor to I Am Bread, the physics-based comedy platformer that has sold close to two million copies and still receives 75,000 YouTube views daily, over four years after its launch. The game takes the mix of physics platforming and control-scheme-battling seen in I Am Bread and sets it free in an ocean of opportunity. Players can expect more thrilling highs and more crushing defeats, all wrapped up in the best of Bossa's humor.

I Am Fish was originally part of the Bossa Presents prototype initiative in October 2019. This initiative saw free prototypes of I Am Fish, Pigeon Simulator, and Trash Bandits released to players worldwide for them to enjoy and provide feedback on. Bossa Studios has now set the bowl rolling on turning I Am Fish from a prototype to a full sequel to I Am Bread, rebuilt from the ground up and full of the features requested by a wonderful deluge of players during Bossa Presents.
As a "thank you" gift, Bossa Studios has added a new level to the I Am Fish prototype, which can be downloaded for free at the Bossa Presents website. YouTuber DanTDM posted the exclusive reveal of this level on his YouTube channel today.
Watch the announcement trailer for I Am Fish below. View a set of screenshots at the gallery.