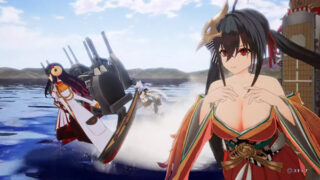 Compile Heart has released 19 minutes of gameplay footage of Azur Lane: Crosswave downloadable content "Episode Taihou," which is due out in April in Japan.
All five upcoming downloadable content episodes were developed by CRYSTAR studio Gemdrops. The scenario text was written by the same Compile Heart writer that wrote the main story, all under the supervision of Azur Lane creator Yostar.
Azure Lane: Crosswave is available now for PlayStation 4 and PC via Steam worldwide.
Watch the footage below.