Time paradox multiplayer shooter Quantum League for PC open beta set for February 21 to March 2
Steam Early Access release due out in 2020.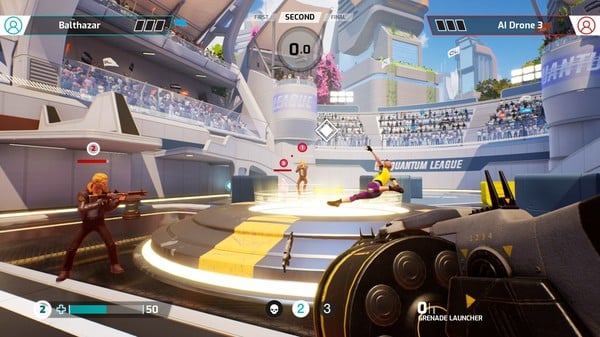 The open beta for time paradox multiplayer first-person shooter Quantum League for PC will run via Steam from February 21 to March 2, developer Nimble Giant Entertainment announced.
"Quantum League's open beta is a great opportunity for players to test their skill and experiment with the time loop mechanic," said Nimble Giant Entertainment lead designer Balthazar Auger in a press release. "We can't wait to see the new strategies players will discover."
Here is an overview of the game, via Nimble Giant Entertainment:
Quantum League is a revolutionary time paradox shooter: a competitive online first-person shooterwhere players battle within a time loop, tactically teaming up with their past and future selves in mind-blowing one-versus-one and two-versus-two matches.

Nimble Giant's innovative shooter is centred within an alternate universe where time travel has changed the face of professional sports as we know it. "Quantum League," a heavily weaponized team-based shooting sport, dominates the globe. As a Quantum Athlete, participants compete in specially designed arenas where agility, speed and skill are not enough to rise to the top: the ability to tactically play with your past and future selves is a must.

In a dynamic and fast-moving arena players must take into consideration where they were and where they want to be to make that final winning shot, turning the tide of battle in an instant.
Quantum League will launch for PC via Steam Early Access sometime in 2020.
Watch a new cinematic trailer below.