Ruiner coming to Switch
2017-released top-down action shooter adds another platform.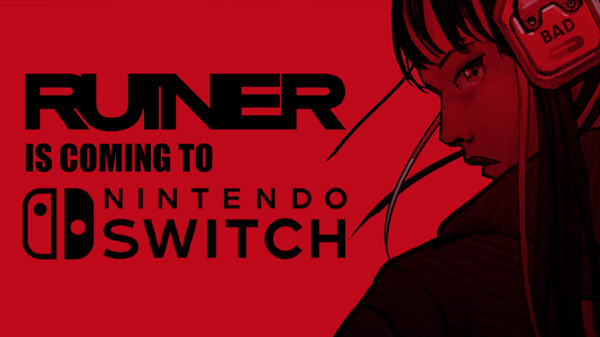 Reikon Games-developed top-down action shooter Ruiner is coming "soon" to Switch, publisher Devolver Digital announced.
Ruiner first launched for PlayStation 4, Xbox One, and PC via Steam in September 2017.
Here is an overview of the game, via its Steam page:
About

Ruiner is a brutal action shooter set in the year 2091 in the cyber metropolis Rengkok. A wired sociopath lashes out against a corrupt system to uncover the truth and retrieve his kidnapped brother under the guidance of a secretive hacker friend. Combine preternatural reflexes, augmented tools, and the arsenal of fallen foes to tear down and dismantle the corporate titans of virtuality dealers at HEAVEN.

Key Features

Sophisticated & Brutal Combat: Ruiner features lightning fast combat that requires a delicate balance of overwhelming, brute force, and elegant strikes to overcome all manner of savage opponents. Blast through crowds or slow down time and hand select your points of attack before unleashing a storm of violence on the battlefield.
Cyberpunk Inspired Arsenal: Equip all manner of high-tech firearms and melee weapons to ruin all that oppose you. Employ state of the art gadgets like energy shield, dash augmentations, and the switch gun stun or hack the opposition onto your side of the fight.
Story-Driven Action: Violent confrontation is a means to an end and trust is a devalued currency in Rengkok as you navigate a senseless world with the help of a mysterious hacker friend.
Exceptional Soundtrack: Explore and battle to the intense beats of Khoven, DJ Alina, and famed anime composer Susumu Hirasawa (Paprika, Millennium Actress).