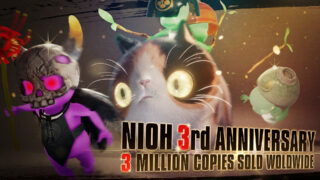 Total shipments and digital sales for Nioh have exceeded three million worldwide, publisher Koei Tecmo and developer Team Ninja announced.
The game was last reported at 2.5 million sales in February 2019, and before that, at two million sales in May 2018.
Nioh first launched worldwide for PlayStation 4 in February 2017, followed by PC via Steam in November 2017.
The sequel, Nioh 2, is due out for PlayStation 4 on March 12 in Japan and March 13 worldwide.
In related news, developer Team Ninja studio head Yosuke Hayashi told Eurogamer.pt in a recent interview that just like Nioh was a new property created for PlayStation 4, Team Ninja wants to create another new property for PlayStation 5.
"I believe that a new console will bring new opportunities and we would like to create a new game, a new intellectual property for PlayStation 5," Hayashi said. "We created the Nioh series for PS4 and we would like to do the same for PS5."