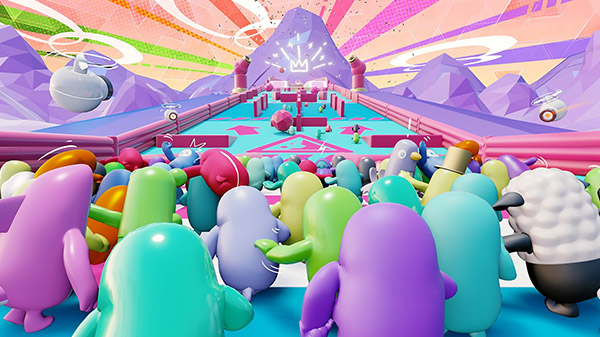 Fall Guys: Ultimate Knockout, which was previously planned for release in early 2020, will now launch this summer, publisher Devolver Digital and developer Mediatonic announced.
Devolver Digital also released the first in a series of developer diaries, this one titled "Behind the Stumbles Part I: What is Fall Guys?" In it, the development team at Mediatonic discuss their inspirations for the game.
"The first episode of the 'Behind the Stumbles' series is aptly named 'What is Fall Guys?' as our team feels it's incredibly important to illustrate that it's a big, bouncy multiplayer game for players of all types," Mediatonic communications manager Haley Uyrus said in a PlayStation Blog post. "Our goal was to make Fall Guys the 'greatest game show ever' with clear inspirations from Takeshi's Castle and the lesser known It's A Knockout. Both game shows put their contestants in such unusual and sometimes ridiculous scenarios that any advantages obtained through skill would often be mitigated by the bizarre variables of the obstacle courses and bumbling paths of the other contestants. We want players to feel both like they are totally in control while at the same time accepting that there are forces well beyond their control that could just ruin their well laid plans."
Fall Guys: Ultimate Knockout will be available for PlayStation 4 and PC.
Watch the developer diary below.