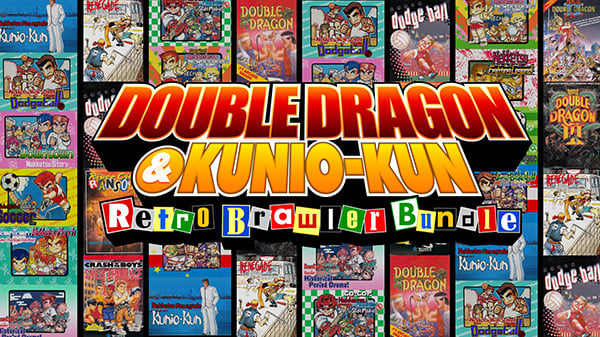 Arc System Works will release Double Dragon & Kunio-kun Retro Brawler Bundle, which originally launched in Japan as Kunio-kun: The World Collection, for PlayStation 4 and Switch on February 20 in the west, the company announced.
The Xbox One and PC versions released in Japan were not announced for the west.
Double Dragon & Kunio-kun Retro Brawler Bundle includes a total of 18 titles, including seven classic Double Dragon and Kunio-kun games from the 1980s and 1990s, and all 11 Kunio-kun classic titles released for the Family Computer Disk System in Japan localized for the first time.
The full list of games includes:
Double Dragon Series

Double Dragon (1987)
Double Dragon II: The Revenge (1988)
Double Dragon III: The Sacred Stones (1990)

Kunio-kun Series

Renegade (1986)
Super Dodge Ball (1988)
River City Ransom (1989)
Crash'n the Boys Street Challenge (1992)

Kunio-kun Series (Published only in Japan, first time localized in NA)

Nekketsu Renegade Kunio-kun
Nekketsu High School Dodgeball Club
Downtown Nekketsu Story
Nekketsu High School Dodgeball Club – Soccer Story
Downtown Nekketsu March Super-Awesome Field Day!
Downtown Special Kunio-kun's Historical Period Drama!
Go-Go! Nekketsu Hockey Club Slip-and-Slide Madness
Surprise! Nekketsu New Records! The Distant Gold Medal
Nekketsu Fighting Legend
Kunio-kun's Nekketsu Soccer League
Nekketsu! Street Basketball All-Out Dunk Heroes
Watch a set of gameplay videos below. View a set of screenshots at the gallery.
Nekketsu High School Dodgeball Club
Downtown Nekketsu Story
Downtown Special Kunio-kun's Historial Period Drama
Go Go! Nekketsu Hockey Club Slip-and-Slide Madness