Yakuza: Like a Dragon details Tug-Tug, Crest Collection, Party Chat, and Smartphone Camera
Care for a little "Tug-Tug"?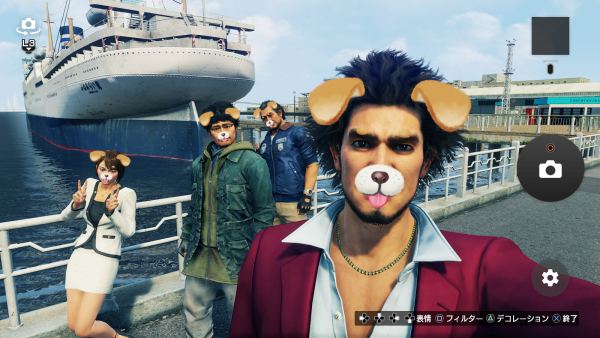 Sega has released new information and screenshots for Yakuza: Like a Dragon introducing new elements such as "Tug-Tug," "Crest Collection," "Party Chat," and the "Smartphone Camera."
Get the details below.
■ Introducing New Features "Tug-Tug," "Crest Collection," and More

"Tug-Tug"

Sometimes people who provide a special service called "Tug-Tug" will appear in the city. By recieving the "Tug-Tug," various benifits can be obtained including recovery of HP or MP, or improvements to protagonist Ichiban Kasuga's Life Experience.

—A lady offers to provide Kasuga her "Tug-Tug" services. It is expensive, but will the effects be worth it?

(Editor's Note: This is a play on the Dragon Quest series' "Puff-Puff" element.)

"Crest Collection"

When you walk throughout the city, you will sometimes find crests from the Tojo Clan in bushes and on sidewalks. These crests seem to have been scattered due to the conflict with the Omi Alliance. A person dressing up as Kamurop, Kamurocho's mascot character, seems to be collecting them before they end up in the wrong hands. If you bring him these crests, you will be able to exchange them for items you will not be able to find anywhere else.

—The Tojo Clan's crests are scattered in various places. Look carefully for them because you might end up finding them in the most suprising locations.

—Kamurop awaits at a certain spot in Isesaki Ijincho. Bring him the crests you collect to trade them in for stuff.

—Not only you can get equipment for the crests, there are also some items that can only be obtained by trading in crests.

"Party Chat"

Adding more fun to walking around the city is the dialogue feature called "Party Chat." Depending on what Kasuga is doing, the time of the day, and the location, you can listen to chats between party members. Enjoy the dialogue and discover something new about your party members by exploring all over the city.

—When Kasuga and Namba are walking along the sea in Hamakita Park, they will start talking about sushi.

"Smartphone Camera"

Your smartphone has a camera. You can take pictures and apply filters to them such as "monotone," "toy camera," or "sepia." When you take a selfie, you can change Kasuga's facial expressions. You can even add decorations to your pictures such as pig noses and cat ears. Your photos can be checked at anytime through the in game smartphone's "Album" feature. Record your memories with allies in different locations throughout the city.
Yakuza: Like a Dragon is due out for PlayStation 4 on January 16, 2020 in Japan, and in 2020 in the Americas and Europe. A demo is available now. Read more about the game here, here, here, here, here, here, here, here, here, here, here, here, here, here, here, here, here, here, here, here, here, here, and here.
View the screenshots at the gallery.