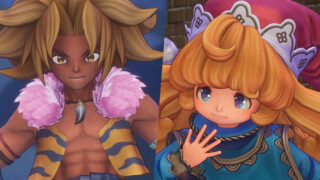 Square Enix has released the second in a series of three trailers spotlighting the main characters of Trials of Mana. This one focuses on Kevin, heir to the throne of the Beast Kingdom of Ferolia, and Charlotte, granddaughter to Wendel's Priest of Light.
Here is an overview of the two characters and how they are linked, via Square Enix:
As the trailer explains, Kevin is the heir to the throne of the Kingdom of Ferolia. His land is home to the Beastmen—humanoid warriors who adopt a bestial form when night falls. Kevin's a little different to his countrymen though—his mother was a human.

His father has raised and trained him for battle, and Kevin is a formidable warrior indeed. That said, he's rarely had an opportunity to talk to humans, and his… let's say lacking social skills mean it can be hard for people to understand him at times.

Charlotte may seem precocious and immature, but there's more to her than meets the eye. She's the granddaughter of Wendel's Priest of Light, and the elfin blood in her veins makes her appear much younger than her actual age.

It's possibly because of her appearance that the people of the temple have coddled her—she's somewhat naive and spoiled. And while she's superstitious and something of a scaredy-cat, she's also insatiably curious.

Although they're both very different characters from very different worlds, Kevin and Charlotte are linked by a common enemy: the sinister Goremand.

The evil jester takes friends away from both heroes, and uses his influence on Kevin's father to instigate an invasion of Wendel. His malicious actions propel the heroes into a truly epic adventure.

…unless it doesn't, of course. One of the coolest features of Trials of Mana is that it lets you choose three characters (from a choice of six) to play as, and the story will play out differently depending on your picks.

So while Kevin and Charlotte may team up in one player's game, in another they may work with completely different allies instead… or even not go on the adventure at all. It's all up to you.
Trials of Mana is due out worldwide for PlayStation 4, Switch, and PC via Steam worldwide on April 24. Read more about the game here.
Watch the trailer below.