Kotaku: Horizon Zero Dawn coming to PC in 2020
A major Sony Interactive Entertainment-developed title on PC?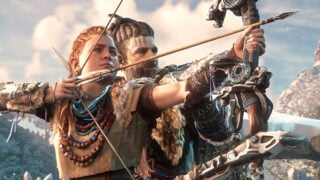 Horizon Zero Dawn, an open-world RPG developed by Sony Interactive Entertainment's Guerrilla Games and released for PlayStation 4 in February 2017, is coming to PC in 2020, "three people familiar with Sony's plans" have told Kotaku.
The game will reportedly be available on both Steam and the Epic Games Store when it launches on PC, though Kotaku notes "that may not be finalized yet."
The post-apocalyptic RPG is expected be the first major PlayStation-exclusive game developed by Sony Interactive Entertainment to launch for PC. While various Sony Interactive Entertainment-owned games such as the Kojima Productions-developed Death Stranding, the Quantic Dreams-developed Detroit: Become Human, Beyond: Two Souls, and Heavy Rain, and the thatgamecompany-developed Journey and Flower were announced for PC, each were developed by independent studios not owned by Sony. The PC versions were also not published by Sony, despite the company's ownership.
It should also be noted that both Horizon Zero Dawn and Death Stranding run on the Guerrilla Games-developed Decima engine. When Kojima Productions founder Hideo Kojima went independent, he toured Sony Interactive Entertainment Worldwide Studios in search of an engine to create his next game, which would become Death Stranding, and decided on Guerrilla Games' Decima. Further development on the engine later turned into a collaborative effort between Guerrilla Games and Kojima Productions, as the latter would improve its code base. A Kojima Productions satellite team was eventually installed at Guerrilla Games to further facilitate collaboration between the studios.