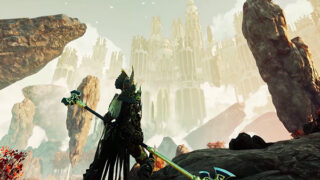 A minute-long trailer for the Game Awards 2019-announced third-person fantasy looter slasher Godfall that was allegedly used internally by developer Counterplay Games in early 2019 has leaked online via Reddit.
According to the poster, the teaser does not represent the final quality of the game.
Godfall is due out for PlayStation 5 as a launch title and PC in holiday 2020.
Watch the video below.
Update 2:40 p.m.: A tweet from the official Godfall Twitter account has confirmed the footage is "year-old PC footage used as part of an internal presentation."
Here is the tweet in full: "Hey everyone! We can confirm that the circulating trailer is year-old PC footage used as part of an internal presentation. We are energized by your excitement and look forward to showing you just how far this game has come. Stay tuned for a more detailed look soon!"