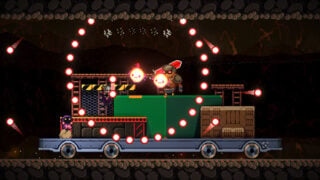 Exit the Gungeon, the spin-off to Enter the Gungeon launched for Apple Arcade in September 2019, is coming to consoles and PC in early 2020, developer Dodge Roll Games announced.
The developer also announced that Enter the Gungeon has sold over three million copies across PlayStation 4, Xbox One, Switch, PC, Mac, and Linux.
Here is an overview of Exit the Gungeon, via its App Store page:
Exit the Gungeon is a bullet hell dungeon climber immediately following the adventures of the misfit 'Gungeoneers' and their journey for personal absolution in Enter the Gungeon. The Gungeon has become a paradox and is collapsing! Armed with an ever-changing weapon, an insatiable need to loot, and the trusty dodge roll, each of our heroes must ascend and escape via their own unique route of increasingly perilous elevators. Battle against the last and most bitter of the Gundead at a frantic pace, slowing down just long enough to chat with some familiar faces… and a few new ones. Shifting rooms, enemies, bosses, bizarre weapons and items all combine to ensure that no two attempts to Exit the Gungeon are the same.

Also, you can wear hats. Everybody loves hats, and spin-offs, which this game is… of Enter the Gungeon.