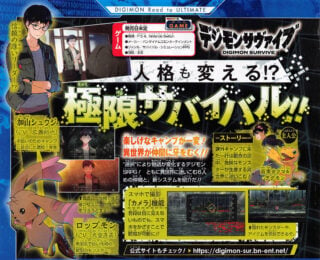 The latest issue of V-Jump introduces newly announced Digimon Survive characters Shuuji Kayama and Lopmon, as well as a smartphone camera function that can be used to spot hidden Digimon and items.
Here are the details:
Shuuji Kayama (voiced by Yuuya Hirose) – A first-year high school student who joins the camp as a helper. As someone with a serious personality who is older than the others, he tries to protect his friends…
Lopmon (voiced by Naomi Oozora) – A Beast-type monster with an innocent and childlike personality.
Camera Fuction – By holding up your smartphone, you can see things that are not normally visible, including hidden items and monsters.
Digimon Survive is due out for PlayStation 4, Xbox One, Switch, and PC worldwide in 2020. In Japan, it will only be released for PlayStation 4 and Switch. Read more about the game here, here, and here.
Thanks, With the Will.