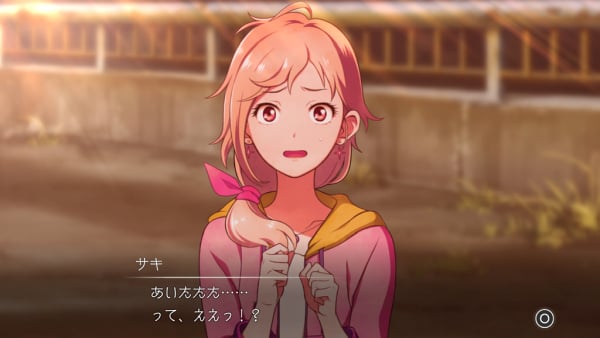 Bandai Namco has released new information and screenshots of Digimon Survive introducing new characters Saki Kimijima and Floramon, as well as the "Free Action" system.
Get the details below.
■ Story

A camp that is boring for a girl suddenly changes and becomes an unexpected trial!

Saki is a middle school girl known for her lovely appearance and outspoken conduct.

While she participated in the camp to make memories with friends, none of her friends joined. While she looks popular, her friends see her as bothersome and cast her aside.

As if to get her mind off of that fact, she approaches Takuma and his friends. They step foot into the off-limits shrine out of curiosity, but end up wandering into another world together.

With her everyday life striped away, the strength of the girl's heart will be challenged!

With her normal life a thing of the past, a girl's strength will be tested!

■ Characters

Saki Kimijima (voiced by Minami Takahashi)

A first-year middle school girl who participates in the extracurricular camp. She has a freewheeling and honest personality in that she clearly says whatever it is she wants to say. A girl who stresses her feelings for better or worse, her personality remains unchanged even when she wanders into another world, and saying exactly what is on her mind may lead to friction against others… She is unable to accept death as a reality, and believes everything is going to be alright.

Floramon (voiced by Shino Shimoji)

While categorized as a Plant-type, she is an unusual Digimon that evolved like a reptile. She is a friend to Saki, and her refreshing personality is an excellent match for the middle schooler.

—Villainous Digimon swoop down on Saki and Floramon!

■ Game Systems

Deepen Your Bonds with Friends through "Free Action"

During "Drama Parts," which progress as a text adventure and tell the game's story, two situations will occur: "Search Action," where you search for a way to survive in a crisis situation, and "Free Action," where you will choose where to go and who to talk to within a limited window of time.

During Free Action, your group of friends will disperse and act individually. By choosing an area from the map and talking to your friends in that area, you can learn new information and the problems your friends are dealing with, which will deepen your bonds.

There are also places where you can go during Free Action where you can enter "Free Battle" to train your Digimon and collect items.
Digimon Survive is due out for PlayStation 4, Xbox One, Switch, and PC worldwide in 2020. In Japan, it will only be released for PlayStation 4 and Switch.
View the screenshots at the gallery.