Death Come True presentation set for February 6
30-minute presentation to be held at Shinjuku Wald 9 in Tokyo.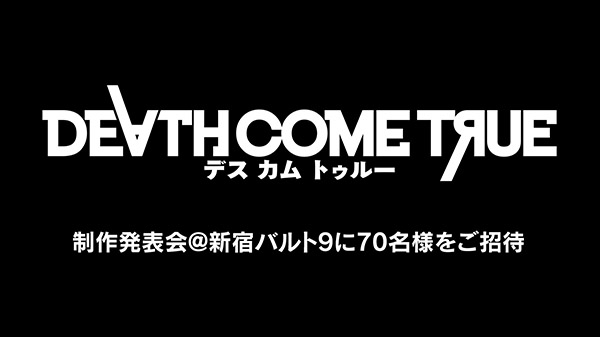 IzanagiGames will host a Death Come True presentation on February 6 from 20:30 to 21:00 JST at Shinjuku Wald 9 in Tokyo, the company announced. It will be live streamed on YouTube.
The event will feature the following presenters:
Producer: Shinsuke Umeda
Scenario & Game Director: Kazutaka Kodaka
Movie Director: Hayato Andou
Kanata Hongou (portrays Makoto Karaki)
Chiaki Kuriyiama (portrays Akane Sachimura)
Win Morisaki (portrays Nozomu Kuji)
Yuki Kaji (portrays Hotel Concierge)
Chihiro Yamamoto (portrays Nene Kurushima)
IzanagiGames will invite 70 users to attend via a Twitter campaign. Users who follow @DeathComeTrue and retweet this tweet will be entered in a lottery to attend. Winners will also go home with a Death Come True original tote bag.
Death Come True is a full motion video game directed and written by Danganronpa creator Kazutaka Kodaka. It is due out for PlayStation 4, Switch, PC, iOS, and Android in 2020 in multiple languages.
Thanks, Famitsu.