THQ Nordic releases Gothic remake prototype for PC to gauge interest in full-scale production
Available free to anyone who owns a Piranha Bytes game on Steam.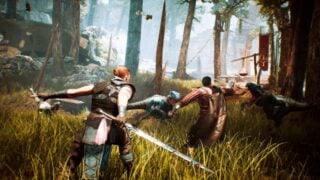 Publisher THQ Nordic and developer THQ Nordic Barcelona have released Gothic Playable Teaser—a free playable prototype of what a remake of Gothic could look and feel like. It will appear in the Steam library of everyone who owns a game developed by Piranha Bytes.
Gothic Playable Teaser offers two hours of gameplay, allowing players to roam around the mining colony of Khorinis. After playing, players can take a survey to help THQ Nordic learn whether and how it should proceed with the production of a full Gothic remake, or to leave the legacy of the game untouched.
Here is an overview of Gothic Playable Teaser, via its Steam page:
About

This is not a full game. Its a playable teaser version to a potential approach for a new Gothic game. Nothing is set in stone.

So your feedback is essential to turn Gothic into a modern game. Therefore, and to reward your loyalty, Gothic Playable Teaser is totally free for all fans who already have any of the titles in the Gothic saga or developed by Piranha Bytes!

The Kingdom of Myrtana has been invaded by an implacable horde of orcs.

King Rhobar II, in need of a large quantity of magical ore in order to forge powerful weapons, operates the Khorinis mines with all available prisoners. To prevent them from escaping, the monarch asks his best magicians to create a magical barrier. But something goes wrong. The magic gets out of control and a mutiny turns the mines into a wild territory now controlled by the most violent prisoners.

The King is forced to negotiate with the new owners, while the tension between the different factions of the mines increases. What no one expects is that the arrival of an unknown prisoner will change absolutely everything.

Key Features

Return to The Colony, a reimagination of the popular and revolutionary game Gothic from 2001. Rediscover the world of the mining colony, its secrets and challenges in this playable version of two hours.
Play as the Nameless Hero – Manage the fate of a lifetime convicted prisoner who must survive in a world of wild animals, creatures and convicts of dangerous reputation.
Experience a two hours-long introduction to The Colony – A mysterious red scroll and a set of strange characters will immerse you in a complex story of loyalties and betrayals.
Fight humans and others creatures like Scavengers and Wolfs – Learn the combat arts through a tactical and demanding combat system.
Discover the possibilities of crafting – Experiment with ingredients and recipes to discover powerful soothing and healing foods.
Here is an official FAQ about the project:
Q: Who is developing this project?

A: THQ Nordic Barcelona. You can find out more about the studio here (hint: we are looking to grow our team).

Q: Is Piranha Bytes involved in the project?

A: No! Piranha Bytes is working hard on a different project, which will be announced in 2020.

Q: Wait, why can we only play two hours?

A: Because it's just a prototype, done by a new small team in Barcelona and we wanted to do an unusual approach and give this into the hands of players early. What you are going to play is all we have to show you at the moment.

Q: OK, got it. But if we want the full game, how long do we have to wait?

A: Quite some time. We will only start full production if the community demands a Gothic remake. In order to do so, we will need to grow the development team and rebuild Gothic from scratch.

Q: This can become a remastered HD version of Gothic?

A: We'd like to call it a remake. We are using a completely new tech (Unreal Engine 4) and so basically nothing but the story, the setting, the atmosphere, the music and the world of Gothic will remain. The whole tech, all graphics, the sound, different systems will be recreated according to modern high quality standards.

Q: Can I buy the prototype?

A: Yes and no. Everyone who owns ANY game from Piranha Bytes will get it for free–so if you don't have either Gothic, Gothic 2, Gothic 3, Risen, Risen 2, Risen 3, or ELEX you can buy one of them now and the prototype is also yours.
Watch the announcement trailer and a comparison video below. View a set of screenshots at the gallery. Visit the official website here.
Trailer
Comparison