The Idolmaster console game announcement set for January 20, 2020
Live stream event announced.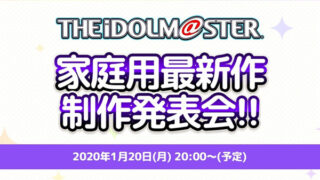 Bandai Namco will announce a new The Idolmaster game for consoles during a live stream on January 20, 2020 at 20:00 JST.
The announcement teaser came at the end of today's "[email protected] [email protected] 2019" live stream. Further details were not announced.
The last new console game entry in the Idolamster series was The Idolmaster: Stella Stage, which launched for PlayStation 4 in December 2017.
Watch the second official trailer for the Idolmaster series' 15th anniversary below.
https://www.youtube.com/watch?v=pOh3QIg1e3U