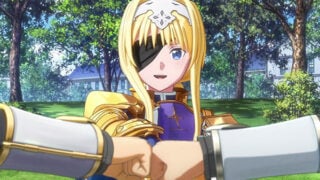 Sword Art Online: Alicization Lycoris will launch for PlayStation 4, Xbox One, and PC on May 21, 2020 in Japan, and May 22 in the Americas and Europe, publisher Bandai Namco and developer Aquria announced.
In Japan, the standard edition will cost 7,600 yen on PlayStation 4 and Xbox One, the PlayStation 4-only first-print limited edition will cost 10,900 yen, and the digital-only Deluxe edition will cost 11,800 yen. Early purchases include a download code for the four costumes that won the Sword Art Online: Alicization Lycoris costume design contest.
The first-print limited edition includes a limited edition box with a special illustration, special contents Blu-ray disc, original soundtrack CD, original drama CD, special case for the CDs and Blu-ray disc, drama CD script, limited edition packaging, and special booklet (Dengeki NerveGear Vol. 6).
The digital-only Deluxe edition includes the four costumes that won the costume design contest, Beater's Player rights (early access to the game), rights to download two large-scale downloadable contents upon release (included with the Premier Pass), and one Premier Pass bonus costume. The PlayStation 4 version also includes the digital soundtrack, PlayStation Network Sword Art Online: Alicization Lycoris avatar set, PlayStation 4 dynamic theme, and PlayStation Network avatar icon for Alice.
Pre-orders open on December 9 in Japan.
Here is an overview of the game, via Bandai Namco:
About

Your journey is ready to begin…

For the first time ever, players can experience Sword Art Online's anime storyline in game format with Sword Art Online: Alicization Lycoris Play as the protagonist Kirito and immerse yourself in "Underworld," a mysterious virtual world set in the anime's Alicization arc. Featuring intense battle action, stunning JRPG visuals, and an expansive world to explore; your journey through the latest VRMMO Sword Art Online game is ready to begin!

Key Features

Lycoris Flower – Lycoris is a species of flower found in the South of Japan which symbolizes passion, sad memories, reunion, and self-reliance. Experience these themes as you dive into the game's storyline.
Faithful to the Original Work – Kirito has awoken in a mysterious yet somehow familiar virtual world where AIs behave like humans. In this world, Kirito meets a young man named Eugeo. They make a promise where their destinies will soon become entwined. To keep that promise and stay together, they must venture onwards.
Meet Your Favorite Characters – Relive the story of Alicization with your favorite characters such as Kirito, Eugeo, Alice, Administrator, and many more.
Watch a new trailer and gameplay footage below.
Trailer
English
Japanese
https://www.youtube.com/watch?v=lR-KNBdUNCc
Gameplay
(From 1:03:03 to 1:20:43.)
Update 12/09/19: View a new set of screenshots at the gallery.