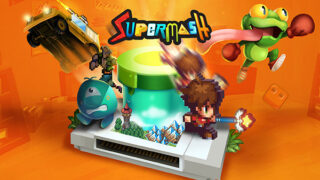 Developer Digital Continue has announced and released SuperMash, a new game where players can mix together elements from two-to-six classic genres to create unique gaming experiences. It is available now for PC via the Epic Games Store for $24.99, and is coming to PlayStation 4, Xbox One, and Switch in 2020.
Here is an overview of the game, via Digital Continue:
About

In SuperMash, no person will play the same game (called a Mash) twice. One Mash might send them on a Stealth rescue mission as a bouncy Platformer character, while the next one will require them to fight a JRPG boss in the middle of a top-down action–adventure dungeon. It sources art and design elements from each genre to make these experiences one-of-a-kind.

Key Features

Six game genres for players to blend together: Metrovania, shoot 'em up, stealth, platformer, JRPG, and action-adventure. More to be revealed in 2020!
Unlockable Dev Cards, which can be used to further customize Mashes.
Glitches in each Mash to change how the game is played.
One-of-a-kind codes for Mashes so players can share them with each other, as well as the ability to save Mashes to play them again in the future.
A story mode campaign where players can save a video game store from a nefarious threat.
Watch the announcement trailer below.