Nurse Love Syndrome and Nurse Love Addiction for Switch coming west on December 26
Romance visual novel currently available for PS Vita and PC.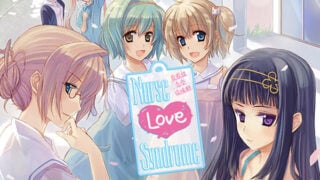 The Switch versions of romance visual novels Nurse Love Syndrome and Nurse Love Addiction are coming to the Nintendo eShop in the west on December 26, publisher Degica Games announced.
Both titles are currently available for PS Vita and PC in the west.
Here is an overview of each game, via their Steam pages:
Nurse Love Syndrome

About

In a fantasy Japan, where womanly love is the norm, and a nurse can heal others with a touch of her hands…

Meet cheerful Kaori Sawai, fresh out of nursing school, as she joins Yurigahama Hospital. Surviving a near death experience as a child left her with a desire to become a nurse and "healing hands" that lets her relieve pain in patients just by touching them.

Written by real life nurses Sakura Sakura and Madoka Madoka, Nurse Love Syndrome shares the same world as Nurse Love Addiction. Focusing on young adults fresh out of school, guide Kaori in her story of growth, love, and medicine.

Key Features

Quirky Cast – From the strict head nurse Hatsumi Otsuka, big-sisterly Yasuko Yamanouchi, and nursing school senpai Nagisa Fujisawa, to the hostile patient Sayuri Sakai, cute looking high-schooler Ami Asada, and the mysterious Master of Room 310, the cast of quirky characters will all define Kaori's growth.
Multiple Endings – Let your choices decide how Kaori will grow her relationship, and lead her to one of the 20 or more endings, of sweet love or darker passions.
Complete Edition – Nurse Love Syndrome includes all the content of the updated Nurse Love Syndrome Re:Therapy game released in Japan, for you to enjoy the definitive edition of love and nursing.

Voice Talents

Kaori Sawai (voiced by Asumi Kana)
Hatsumi Otsuka (voiced by Eri Kitamura)
Nagisa Fujisawa (voiced by Yoko Hikasa)
Sayuri Sakai (voiced by Asami Imai)
Yasuko Yamanouchi (voiced by Yumi Hara)
Ami Asada (voiced by Manabi Mizuno)
Mayuki Wakamoto (voiced by Ayane Sakura)

Nurse Love Addiction

About

Follow Asuka Osachi, a ditzy girl training to become a nurse at Teito Nursing School. Experience her story with her classmates as they discover love, medicine, and adulthood.

Asuka Osachi, a ditzy and easy-going girl, graduates from high school and enrolls in Teito Nursing School along with her younger sister, Nao. With their two classmates Itsuki and Sakuya and their instructor Kaede, the girls will experience what it means to be an adult… and a nurse. They'll laugh and cry together as they wade through this confusing time in their lives.

Decide how Asuka and her friends will spend their three years at Teito Nursing School!

Key Features

Branching story arcs and multiple endings depending on your choices.
Bittersweet love between blossoming young ladies.
Unique and rounded characters.
Romantic illustrations featuring adolescent girls on their way to adulthood.
Unexpected and surprising plot points that will keep you reading until the very end.
The visual novel equivalent of ER: life, love and medicine.

Cast

Asuka Osachi (voiced by Azumi Asakusa)
Nao Osachi (voiced by Ai Kakuma)
Itsuki Amatou (voiced by Yumi Hara)
Sakuya Takeda (voiced by Yukari Tamura)
Kaede Ohara (voiced by Asami Imai)
Watch a set of trailers below.
Nurse Love Syndrome
Nurse Love Addiction