NekoMiko studio qureate announces escape adventure game Prison Princess for Switch [Update]
Due out digitally on January 30, 2020 in Japan.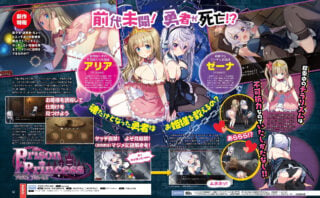 NekoMiko developer qureate announced Prison Princess, a "new sensation escape adventure game with beautiful girls, puzzle solving, and a bit of eroticism" for Switch in the latest issue of Weekly Famitsu. It will launch via the Nintendo eShop on January 30, 2020 in Japan for 1,800 yen. Development is currently 92 percent complete.
Prison Princess is produced by Yuujirou Usuda, and features character designs by Ai Akasa and Inui Waon. In addition to the player, who plays the role of the hero, the game features two princesses:
Arisa (voiced by Mao Amatsuka) – Princess of the Aria Lara Kingdom. Since she led a sheltered life growing up, she has seen little in the ways of the world. Although mild-mannered, she has a passionate desire for world peace. And while spontaneous, she is intelligent and well-versed in magic. Occasionally, she surprises those around her with her sound and to-the-point statements.
Zena (voiced by Fumiko Uchimura) – Princess of the Zanji Tzard Kingdom. She is a typical tsundere with a big ego and inability to be straight with people. Since she is fears no one and never holds back, she tends to be abusive towards and quip at the hero. Her ability with a sword is first-class.
Prison Princess is set in the Meigard continent, where there was a long run of peace and prosperity until the Demon King suddenly appeared. As town after town was invaded, a descendant of the ancient hero stood up to oppose the Demon King, but was killed during his journey. And while now only a spirit, the hero made his way to rescue the captive princesses.
As the hero has no physical body, he cannot explore on his own. Therefore, he must guide the princesses through the castle to solve its puzzles. By investigating suspicious locations, they can obtain items and escape hints. Using those hints, players can solve various puzzles to guide the princesses to their escape.
Many, life-endangering challenges will block the princess' path. Some puzzles have time limits, so it is important to focus on the puzzle "while paying no attention to the each princess' unladylike appearance." While touching is described as "strictly prohibited," touching the princesses will trigger various reactions. Also, the developer suggests not worrying too much about the princess' frequent display of cleavage and underskirt, as the player's actions in this case may effect the outcome of the princesses and hero.
The official website for Prison Princess will be available here. qureate released an English version of its previously released PC game NekoMiko simultaneously with its Japanese version, so while it is possible it will do the same with Prison Princess, nothing has been confirmed at this time.
Update 9:37 p.m.: The official website has launched, confirming the game for a North American release with support for English, Japanese, and Traditional and Simplified Chinese language options. Voice-overs will be Japanese-only.