Local multiplayer party game Bake 'n Switch adds Switch version
Combine and bake heaving mounds of dough to save the world.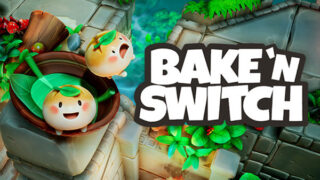 Local multiplayer party game Bake 'n Switch is coming to Switch alongside its previously announced PC (Steam) version in summer 2020, developer Streamline Games announced.
Here is an overview of the game, via Nintendo.com:
About

A long time a dough in a bakery far, far away, The First Bakers came together to defeat the Scourge. The Scourge threatened their precious food source—unreasonably cute and blobular dough creatures that roam the land.

Key Features

Work as a Team in Local Co-Op Mode (up to four players): To save their world, The Bakers must combine the doughs—the bigger the dough, the higher your score…..and bake heaving mounds of dough in the oven before time runs out!
Appease Hangry Guardians: Journey through the levels to summon the Guardians, satiate their insufferable munchies and gain their aid to defeat The Scourge. Little did the Bakers know what the Guardians demanded in return.
Fight The Scourge: Punch away yucky Spores and Stickies before innocent buns turn bad! If you're lucky, collect power-ups to Freeze, Electrify, Magnet & Solar Palm your way to victory!
Become Top Baker in PVP Mode: Test your friendships by sabotaging each other's ovens to bake as many doughs to win gloating rights.
Choose Your Baker!: Bakers hold the most prestigious yet perilous position amongst their kin. Only the swiftest and sharpest of the lot get called to enter the inner sanctum of The First Bakers.
Watch a new trailer below.