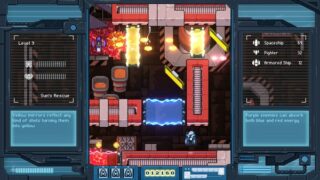 Publisher Eastasiasoft will release retro-inspired shoot 'em up Iro Hero for PlayStation 4 in the Americas on December 17, PlayStation 4 in Europe and Xbox One worldwide on December 18, and PlayStation 4 in Japan and Asia on December 20, the publisher announced. It will cost $5.99 / €5.99, and Xbox One users will receive a 20 percent discount until January 1, 2020.
The Artax Games-developed Iro Hero first launched for Switch on June 7, 2018, followed by PC via Steam on June 30, 2018.
The PlayStation 4 and Xbox One versions will include all recent game updates, including four game modes, increased ship speed, additional animations, and re-balanced difficulties.
Here is an overview of the game, via Eastasiasoft:
Iro Hero is a vertical shoot 'em up with beautiful pixel art graphics inspired by many old-school classics. Staged across 9 action-packed levels, Iro Hero features a unique and fresh approach to the popular color polarity mechanic, with interactive level elements, color zones, reflective surfaces and much more.

Encounter 10 different types of enemies with over a hundred different behaviors, and defeat 10 final bosses in the vein of classic arcade games. Unlock special skills throughout the game to help you land a final blow or escape from desperate situations.
Watch a trailer below.